Risian Tropical Bird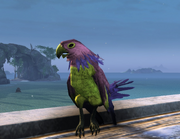 Risian Tropical Birds are winged creatures native to Risa which can be bred to become non-combat pets.
They are also extremely useful for obtaining Reputation Marks, as a full grown Tropical Bird of any breed can be traded in for Mark Packages. There are six breeds of Tropical Birds. After obtaining a [Risian Tropical Bird Egg] (found during "Horga'hn Hunt" or purchased from the Risian Vendor), Tropical Birds can be raised via the assignment "Hatch an Egg!" given by the Ornithologist at the Promenade of the Risa Summer Resort.
Each of the breeds has the potential to evolve into a Tufted variant upon getting a critical success.
The tropical birds of Risa are one of the great wonders of the
Alpha Quadrant
. Nearly all known breeds have vibrant plumage and beautiful songs to sing. As a unique aspect to Risian tropical birds, nearly all are capable of interbreeding with eachother [
sic
], resulting in variants in color and shape with nearly every generation. The ongoing categorization of the different breeds is of great fascination to birdwatchers and biologists alike.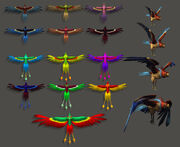 Seaspray
Grotto Glider
Passion Wing
Dusk Diver
Sunset Streamer
Firespray
Risian Tropical Birds can be traded to the Ornithologist for a Mark Package - Multiple Choice. The number of Reputation Marks awarded will depend on the age and variant of the bird.
| Bird Age | Regular | Tufted |
| --- | --- | --- |
| Chick | 10 | -- |
| Fledgling | 20 | 35 |
| Adult | 35 | 60 |
| Senior | 60 | 100 |
---
---