Fire Emblem Warriors: Three Hopes - The Loop
Play Sound
Rom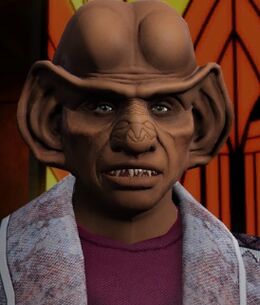 Profession(s):
Grand Nagus
Rom is the current Grand Nagus of the Ferengi Alliance. He is the father of Captain Nog, husband of Leeta, and brother of Quark of Quark Enterprises.
Background
[
]
Rom ascended to his position in 2375, when Zek appointed him as the new Grand Nagus as he thought he would be the perfect Nagus for a "new Ferenginar". In 2386, Rom used tax proceeds to start free schools which caused protests that rocked the capital of Ferenginar. Many Ferengi saw the free education as an assault on traditional values, and the demonstrations continued until Rom charged each protester ten slips of latinum for mass assembly without a proper permit. To get a permit to protest, Rom charged a bar of latinum and proceeds were used to fund the educational system.
The following year, social and economic reforms pushed by Grand Nagus Rom were a topic almost as important as the stock market. After several lawmakers were paid to vote against it, a bill which could have allowed the Ferengi Alliance to formally ally itself with the Federation was officialy rejected.
In 2405, Rom used a portion of the profits from his trade agreements with the Cardassians to finance the passage of expanded technology and information sharing agreements with the Federation. When opposition from the Economic Congress of Ferengi Advisers proved too costly to overcome, Rom took his victories and ended his fight for a formal alliance with the Federation.
Missions involved
[
]
Missions mentioned
[
]
Other involvement
[
]
"The Golden Nagus": Rom meets with Leeta; they discuss the Hur'q, who have been attacking Ferengi space. After discussing various options, Rom decides to attend an Alliance summit meeting at Deep Space 9 to seek assistance.
Notes
[
]
For players who have completed "The Renegade's Regret", Rom's flagship is seen docked at Deep Space 9 and can be hailed. After the completion of "Home", the ship is no longer present.
---
---