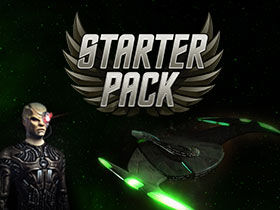 The Romulan Legacy Starter Pack is a Romulan-only Zen Store bundle available for 1000

.
Details
[
]
Starting a Romulan captain and want to launch their career at Warp 9? Add a Romulan Legacy Starter Pack and enter the Alpha Quadrant with all the gear you'll need.
Note: This can be claimed once per account. The ship unlocks for the whole account. The other slots and items unlock only for the characters they are claimed on. It may be claimed on a Romulan character, regardless of allegiance. Players must have completed the tutorial to claim this.
Contents
[
]
What's included in the pack:
---
Starter and Expansion Packs
Faction Packs
(PC)
Federation Basic Starter Pack • Elite Starter Pack • Fleet Admiral Faction Pack
Klingon Defense Force Elite Starter Pack • Dahar Master Faction Pack
Romulan Legacy Elite Starter Pack • Fleet Admiral Faction Pack
Faction Packs
(PS4 & Xbox One)
Federation Starter Pack • Federation Pack
Klingon Defense Force Starter Pack • Klingon Empire Pack
Romulan Legacy Starter Pack • Romulan Legacy Pack
Legacy of Romulus
PC-only: Legacy of Romulus Starter Pack • Legacy of Romulus Legacy Pack
Delta Rising
PC-only: Delta Operations Pack
Agents Of Yesterday
Temporal Agent Starter Pack • Temporal Special Agent Pack
Victory is Life
Gamma Vanguard Starter Pack • Gamma Vanguard Pack
Age of Discovery
Age of Discovery Starter Pack • Discovery Operations Pack
Discovery Expedition Pack (PS4-only) • Cobalt and Verdant Packs (PS4 and Xbox One-only)
Services
Elite Services Starter Pack
Elite Starter Pack (Retired)
See also: Legendary, Lobi, Mudd's Market, Other Zen-Store