Raise a Floppa - The Loop
Play Sound

Roxy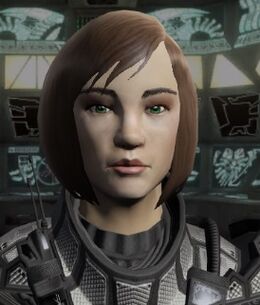 Commander Roxy is a member of Omega Force stationed on Deep Space 9. She is stationed in the Omega Force office and gives an introduction to the reputation system.
History
[
]
Roxy was previously used to requisition equipment until Season 7 when her store was replaced by the Reputation System. She was retained at the Omega Force office on DS9's Promenade where she allowed players to submit and reclaim pieces of the Omega Force, M.A.C.O., and Klingon Honor Guard ground equipment sets to repair failed costume unlocks.
With the release of Victory is Life, which involved the redesign of the Promenade, the Omega Force office was removed. However due to player demand, Roxy was retained and moved to Ops where she became DS9's new Bridge Officer Trainer. Roxy tells the player that the rests of Omega Force was taken by Admiral D'Vak on a tour of the Beta and Delta Quadrants, and she does not know when they would return.
Following the release of Season Twenty: House Divided, a new Omega Force office was added and Roxy was relocated there, reunited with D'Vak. Her place in ops was taken by a Saurian. Roxy now gives an explanation of the reputation system.
Omega Store
[
]
Timeline Change Imminent!

---

This article or section contains information that no longer applies to the current version of Star Trek Online. It is provided only for historical purposes.
Players used to requisition equipment from Roxy until Encrypted Data Chips and Borg Salvage were deprecated in favor of Omega Marks and the Reputation System. All the items previously available for purchase from her can now be acquired through Reputation Projects.
Standard Issue Requisitions
[
]
Special Reserve Requisitions
[
]
General Merchandise
[
]
---