Raise a Floppa - The Loop
Play Sound

Rozhenko Timeship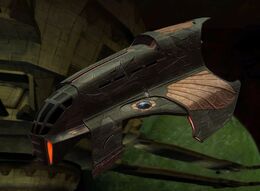 Hull:

| | |
| --- | --- |
| Level 1: | 5000 |
| Level 5: | 5250 |
| Level 10: | 6500 |
| Level 20: | 9000 |
| Level 30: | 11500 |
| Level 40: | 14000 |
| Level 50+: | 18000 |
Matter-Antimatter
Sensor Analysis
The Rozhenko-class Timeship is a Tier 1 (Level 1) Small Craft which may be flown by Klingon Defense Force characters, including Klingon Empire-aligned Romulan Republic and Dominion characters. All faction restrictions of this starship can be removed by having a level 65 KDF character or by purchasing the Cross Faction Flying unlock from the Zen Store.
Players can obtain this starship from the Lobi Crystal Consortium for 300

. The boxed ship is not bound and so may be traded to other players or bought and sold on the Exchange for energy credits under the name [Special Requisition Pack - Timeship Shuttle]. The choice box's contents depend on the player's faction; Klingon Empire players will receive the Rozhenko Timeship when opening it.
Overview
[
]
The Rozhenko Timeship is a 29th Century Timeship recovered from the Tholian Assembly. Most of the advanced technology from these ships have been stripped, and have been replaced with contemporary equipment. Presumably named after Alexander Rozhenko, Son of Worf, who has recently funded research into temporal mechanics, the Rozhenko-class Timeship is a small craft with fantastic power.
The Rozhenko Timeship comes with a Subatomic Deflector Array. This Deflector provides a small improvement to Starship Flow Capacitors, Particle Generators, Shield Systems and Shield Emitters. The Deflector also enables you to fire a Subatomic Disruptor. This devastating weapon fires a single massive sustained beam capable of breaking apart a target's molecular structure. It can be equipped on any small craft.
Ability
[
]
Sensor Analysis
[
]
Sensor Analysis is an active toggle ability. While maintaining a Sensor Lock on a target, the player gains a stacking effect that either improves the damage and power drain against an enemy, or improves any heal directed towards an ally. This effect stacks every 3 seconds, to a maximum of 6 stacks after 18 continuous seconds. To maintain the desired effect, the player must hold the sensor lock.
The Sensor Analysis passive ability grants the player a stacking damage bonus of 3.33% per minute against a single target whilst the player maintains target lock on an enemy. Once the player switches targets the bonus is reset.
Standard configuration
[
]
Klingon starships come with standard equipment and weapons of the lowest mark available at the ship's minimum rank. The items provided are appropriate to the type of vessel and its related playing style.
Ship comparison
[
]
The following table compares the Rozhenko with other Klingon small craft.
Ship

Rank

Tier

Hull

 
 
 

Uni

BOffs

IR

Cost

DujHod Chariot

1

1
6000
0.6
0.5
2
0
✗
1
1
1
2
✗
✗
22
0.2
100
400
Rozhenko Timeship

1

1
5000
0.5
0.6
2
0
✗
1
0
2
1
✗
✗
28
0.33
300
To'Duj Fighter

1

1
5500
0.55
0.5
2
0
✓
2
1
0
1
✗
✗
33
0.3
100
500
Kivra Shuttle

1

1
4000
0.4
0.4
2
0
✗
0
1
0
1
✗
✗
28
0.2
100
20,550
Toron Shuttle

1

1
6000
0.6
0.5
2
0
✗
1
1
1
1
✗
✗
24
0.2
100
34,250
Admiralty ship
[
]
Admiralty Ship
3
4
7
-25% Maintenance per ANY Ship (Not Small Craft)
Gallery
[
]