Ruben System

Ruben System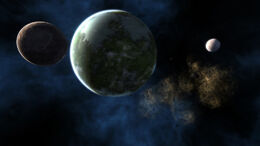 The Ruben System is a system located in the Argelius Sector of the Beta Quadrant.
The Ruben System consists of three planets in close orbit around a Class-A star. Since Ruben Prime is signficantly larger than its sister worlds, this is not considered to be a true trinary orbit.
The government of Ruben Prime is attempting to attract new colonists by offering land grants in the mostly uninhabited land mass known as the Western Reach.