Raise a Floppa - The Loop
Play Sound

Saber Escort Retrofit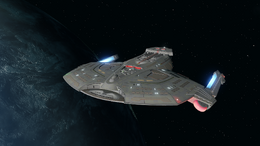 Matter-Antimatter
Saber-class
 ~Escort Variants

This article is about the T5
playable starship
. For other uses, see
Saber class
.
The Saber-class Escort Retrofit is a Tier 5 (Level 50) Escort which may be flown by Starfleet characters, including Federation-aligned Romulan Republic and Dominion characters. All faction restrictions of this starship can be removed by having a level 65 KDF character or by purchasing the Cross Faction Flying unlock from the Zen Store.
Players can obtain this starship from any Ship and Shuttle Requisitions officer for 200,000

, so long as the player's Fleet has a Tier II Starbase Shipyard and one Starbase Military Fleet Ship Provision.
Class variants
Class
Information

Saber class

SKIN UNLOCK: Free

---

The Saber class Escort is a late 24th century model, brought into service to combat the Borg. The design saw extensive action in the Dominion War, where Starfleet officers enjoyed its heavy armament and compact target profile.

Rapier class

SKIN UNLOCK: Free

---

The Rapier-class Escort represents a balance between the more traditional design philosophy of the Saber class, and the more radical-looking Andorian-inspired Ushaan class. The Rapier class was designed by staff from the Starfleet Corps of Engineers who served on the older U.S.S. DaVinci. It has several structural and functional improvements that the DaVinci's crew tested on Saber-class vessels during the Dominion War.

Ushaan class

SKIN UNLOCK: Free

---

The Ushaan-class Escort takes its name from the traditional Ushaan, a historical Andorian duel to the death. The name is fitting, given the design's similarity to the ushaan-tor mining pick the duel is named for.

Gladius class

SKIN UNLOCK: Gladius Escort Refit, 37,500

---

The Gladius class is a variant on the Saber class that saw extensive action during the Dominion War. The Gladius has an updated look and technology for Starfleet captains in the 25th century.

Saber class
Mirror

SKIN UNLOCK: Mirror Saber Escort Retrofit,

---

A Tier 5 Mirror universe counterpart of the Saber.
In the ship tailor the saucer and hull are Ushaan and nacelles are Rapier.
Ability
[
]
Experimental Weapon
[
]
The Saber-class Escort Retrofit comes with an Experimental Weapon slot. This additional slot does not fit standard weapons. Unlike standard starship weapons, Experimental weapons are not affected by weapon firing modes, such as those granted by bridge officer abilities.
Standard configuration
[
]
Federation starships come with standard equipment and weapons of the lowest mark available at the ship's minimum rank. The items provided are appropriate to the type of vessel and its related playing style.
Ship comparison
[
]
The following table compares T5 Federation Escorts.
Ship

Rank

Tier

Hull

 
 
 

Uni

BOffs

IR

Cost

Mirror Patrol Escort

40

5
31000
1.033
0.9
4
3
✓
4
3
2
2
✗
✗
16
0.2
60
Advanced Escort

40

5
31000
1.033
0.9
4
3
✓
4
2
3
2
✗
✗
16
0.2
60
20,000  • 1
Mirror Saber Escort Retrofit

40

5
27600
0.92
0.9
4
3
✓
4
2
3
2
✗
✗
17
0.2
70
Patrol Escort

40

5
31000
1.033
0.9
4
3
✓
4
3
2
2
✗
✗
16
0.2
60
20,000  • 1
Mirror Advanced Escort

40

5
31000
1.033
0.9
4
3
✓
4
2
3
2
✗
✗
16
0.2
60
Fleet Patrol Escort

50

5
34100
1.137
0.99
4
3
✓
4
4
2
2
✗
✗
16
20,000  • 4
Andorian Khyzon Escort

50

5
32000
1.067
0.9
5
2
✓
4
2
4
2
✗
16
0.2
70
2,500
Blockade Runner Escort Retrofit

50

5
34500
1.15
1
4
3
✓
4
4
2
2
✗
✗
16
0.21
60
2,500
Fleet Advanced Escort (T5)

50

5
34100
1.137
0.99
4
3
✓
5
2
3
2
✗
✗
16
0.2
70
20,000  • 4
Saber Escort Retrofit

50

5
27600
0.92
0.9
4
3
✓
4
3
2
2
✗
✗
17
0.2
70
200,000
Andorian Charal Escort

50

5
32000
1.067
0.9
5
2
✓
4
4
2
2
✗
16
0.2
70
2,500
Fleet Saber Escort Retrofit

50

5
30360
1.012
0.99
4
3
✓
4
4
2
2
✗
✗
17
0.2
70
20,000  • 4
Patrol Escort Refit

50

5
31500
1.05
0.95
4
4
✓
5
2
2
2
✗
16
0.2
2,500
Fleet Patrol Escort Refit

50

5
34650
1.155
1.045
4
4
✓
5
3
2
2
✗
✗
16
0.2
20,000  • 5
Andorian Kumari Escort

50

5
32000
1.067
0.9
5
2
✓
5
3
2
2
✗
16
0.2
70
2,500
Tactical Escort Retrofit

50

5
30000
1
0.9
4
3
✓
4
3
2
2
✗
17
0.2
70
2,000  • 1
Fleet Tactical Escort Retrofit

50

5
33000
1.1
0.99
4
3
✓
5
3
2
2
✗
✗
17
70
20,000  • 4
Multi-Vector Advanced Escort

50

5
31000
1.033
0.9
4
3
✓
4
2
3
2
✗
16
0.2
70
2,500
Admiralty ship
[
]
Admiralty Ship

13
49
13
1.5x Critical Rating from ENG and SCI