Raise a Floppa - The Loop
Play Sound

Tactical Escort Refit
Matter-Antimatter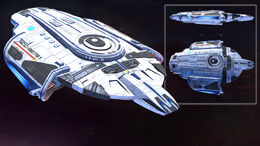 Defiant-class
 ~Tactical Escort Variants
Tier 4 Variants
Sao Paulo Tactical Escort Refit
The Sao Paulo-class Tactical Escort Refit is a Tier 4 (Level 30) Escort which may be flown by Starfleet characters, including Federation-aligned Romulan Republic and Dominion characters. All faction restrictions of this starship can be removed by having a level 65 KDF character or by purchasing the Cross Faction Flying unlock from the Zen Store.
Players can obtain this starship from any Ship and Shuttle Requisitions officer for 150,000

. This ship can be purchased individually, or as part of the console-only Federation Pack for 4,000

. It is also available as part of the following: console-only All Faction Mega Bundle for 8,000

. This ship was previously available on its own from the Zen Store; players that purchased it from there can still reclaim it from there on all their characters.
Overview
[
]
The original Defiant, commanded by Captain Benjamin Sisko, was on the front lines during the Dominion War. When it was lost to the Breen at the Second Battle of Chin'toka, Starfleet assigned the U.S.S. Sao Paulo to Deep Space Nine, but gave Sisko and his crew permission to rename the ship to Defiant. Almost 35 years later Starfleet has launched the Tactical Escort Refit: Sao Paulo class in honor of that ship.
Class variants
Class
Information

Defiant class

SKIN UNLOCK: Free

---

The Defiant class was the first of the Tactical Escort designs, with a prototype originally designed to fight the Borg. The project ultimately failed at Utopia Planetia because its initial engine designs tore the ship apart, though then Engineer

Miles Edward O'Brien

took the project under his wing and corrected most of its issues. The class design later entered production due to the Dominion threat.

Defiant class
Nose art variants


SKIN UNLOCK: Legendary Defiant Pilot Warship, 30,000

---

The Legendary Pilot Warship includes five new 'Saucer' part variants based on the Defiant-class starship featuring "nose art" inspired by historical dogfighters and the Defiant's own canonical 'starship development patch.' Each piece of art represents a conflict the Defiant-class has seen service in over the course of Star Trek Online's history.

Gallant class

SKIN UNLOCK: Free

---

Launched in response to the fallout from the Khitomer Accords in 2399, the Gallant class was born. These ships were made to fight on the front lines of Borg conflict. Gallant is a variant of Defiant, just as capable and bares just as many teeth.

The Gallant Refit ship parts must be selected manually through Ship Customization and are not part of a starship preset.

Gallant class
Refit

Vigilant class

SKIN UNLOCK: Free

---

The Vigilant was a design inspired by the Defiant class. It is just as powerful and nimble but is larger and features an updated nacelle design. The Vigilant is also equipped with a multipurpose space that is adaptable to any situation including relaxation or training.

The Vigilant Refit ship parts must be selected manually through Ship Customization and are not part of a starship preset.

Vigilant class
Refit

Sao Paulo class

SKIN UNLOCK: Free with this starship
OR Legendary Defiant Pilot Warship, 30,000

---

The Sao Paulo class is a 25th century refit of the famed Defiant class. It has exposed, forward-swept warp nacelles and a more faceted main deflector. It also has the white hull texture common to refit vessels.

Valiant class

SKIN UNLOCK: Valiant Tactical Escort, 3,000
OR Legendary Defiant Pilot Warship, 30,000

---

The Valiant-class Tactical Escort is based upon the highly successful Defiant-class design. Unlike the Defiant, which was designed specifically to combat the Borg, the Valiant class was built with the Federation's new enemies in mind.
Standard configuration
[
]
Federation starships come with standard equipment and weapons of the lowest mark available at the ship's minimum rank. The items provided are appropriate to the type of vessel and its related playing style.
Special equipment
[
]
The Sao Paulo comes with [Phaser Quad Cannons [Dmg]x3]. These Quad Cannons can be equipped by any starship capable of equipping Dual Cannons, and have a base damage 3% higher than Dual Cannons (before [Dmg] modifiers), as well as an innate 15% boost to their own damage. This fearsome energy weapon draws power from the ship's engines to deal massive damage to an enemy. The Quad Phaser Cannons scale in effectiveness with you up to Mk XII, and then may be upgraded. They may also be re-engineered.
Ship comparison
[
]
The following table compares Tier 4 Federation starships.
Ship

Rank

Tier

Hull

 
 
 

Uni

BOffs

IR

Cost

Prototype Light Exploration Cruiser

1

4
11500
1.15
1.1
4
3
✗
2
3
2
4
✗
9
0.15
30
1,500
Kobayashi Maru Freighter

1

4
27300
1.092
0.9
3
2
✗
1
3
2
3
✗
✗
15
0.16
40
14
Long Range Science Vessel Refit

30

4
22500
0.9
1.3
3
3
✗
2
3
3
3
✗
12
0.15
50
150,000
Long Range Science Vessel

30

4
22500
0.9
1.3
3
3
✗
2
2
3
3
✗
✗
12
0.15
50
10,000  • 1
Tactical Escort Refit

30

4
25000
1
0.9
4
2
✓
3
3
2
2
✗
✗
17
0.2
70
150,000
Tactical Escort

30

4
25000
1
0.9
4
2
✓
3
2
2
2
✗
✗
17
0.2
70
10,000  • 1
Exploration Cruiser

30

4
32500
1.3
1
4
3
✗
2
3
2
4
✗
✗
6
0.15
20
10,000  • 1
Exploration Cruiser Refit

30

4
32500
1.3
1
4
3
✗
2
3
3
4
✗
6
0.15
25
150,000
Gemini Temporal Cruiser

30

4
31750
1.27
1.05
4
3
✗
3
3
2
4
✗
6
0.15
45
150,000
D'deridex Warbird Battlecruiser

30

4
33750
1.35
1
4
3
✓
2
3
2
4
✗
✗
5
0.15
30
10,000  • 1
D'ridthau Warbird Battlecruiser

30

4
33750
1.35
1
4
3
✓
2
4
2
4
✗
5
0.15
30
150,000
Ar'kala Tactical Warbird

30

4
26250
1.05
0.9
4
2
✓
4
2
2
2
✗
✗
16
0.15
60
150,000
Ar'kif Tactical Warbird

30

4
26250
1.05
0.9
4
2
✓
3
2
2
2
✗
✗
16
0.15
60
10,000  • 1
Admiralty ship
[
]
Admiralty Ship
15
42
15
1.5x Critical Rating from ENG and SCI
Gallery
[
]