For the playable ship, see Scourge Destroyer.

Scourge Destroyer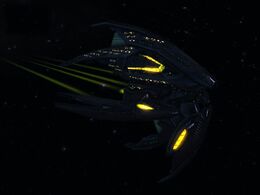 The Scourge Destroyer is an escort used by the Nausicaans, deployed only during large-scale attacks.
Armament
[
]
Abilities
[
]
Hull strength
[
]
Incomplete and/or missing data.


This article or section does not list all values or entries associated with the discussed subject. Please add any missing statistics or items to the corresponding tables, lists and placeholders.
Missions involved
[
]
"Fleet Alert": Numerous Scourge Destroyers accompany a Nausicaan fleet during an attack on a Federation starbase.
See also
[
]