GTA: The Criminal Enterprises - The Loop
Play Sound
Sela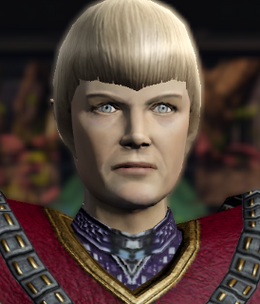 Status:
Incarcerated (2410)
Sela was the Empress of the Romulan Star Empire from 2403 to 2409. The daughter of Natasha Yar and a Romulan general, she ruled the Empire with force, deceitfulness and charm.
History
[
]
Coming from an alternate timeline, Sela's mother, Lieutenant Yar, travels back in time to the year 2344 aboard the U.S.S. Enterprise-C. The ship tries to defend the Klingon outpost on Narendra III, but is eventually destroyed by the Romulan attackers. After Yar is captured, she becomes the consort of a Romulan General, giving birth to her daughter Sela one year later. At the age of four, Sela cries out, as her mother tries to escape Romulus with her, ripping her out of her familiar environment. Yar is subsequently sent to a penal colony and her young daughter, believing she'd been executed, completely rejects her Human heritage.
Sela begins a career in the Star Empire and rises quickly through the ranks of the Romulan military. As a Romulan Commander, she plays a pivotal role in the Empire's ambitious, yet failed, attempts to destabilize the Klingon Empire, disrupt the Khitomer Accords and sabotage Ambassador Spock's Unification movement in the 2360s.
Sela managed to become proconsul in 2384 and represented the Star Empire in a conference on Romulus in the following year, where she managed to reach an agreement with Admiral Taris of the Imperial Romulan State. Although Sela succeeded in peacefully folding back Taris' and Donatra's separatist state into the Star Empire, she loses a power struggle against the Tal Shiar, leading to her exile from Romulus in 2387. Four years later, her fleet reaches Makar, a world rich in natural resources in the Beta Quadrant. During her exile Sela also makes contact with the Hirogen, who lend her their military support in exchange for hunting rights in the Star Empire.
In 2403, Sela returns to the Star Empire and overthrows now-Praetor Taris, becoming new Praetor. Five years later, she reshapes the Empire into a monarchy, declaring herself Empress.
Missions involved
[
]
Other involvement
[
]
Notes
[
]
Sela's asset was available in the Foundry, labeled "Romulan Ensign Female 04". The description reads, "Someone once told her she looked like Sela; he hasn't been heard from in a long while."
Sela's appearance was given a significant revamp with the Legacy of Romulus expansion. She was also given voice dialogue by Denise Crosby, the actress who portrayed Sela in

Star Trek: The Next Generation

. Her appearance was revamped yet again with the addition of "What's Left Behind" to be more accurate to the character's (and actress's) age.
Gallery
[
]
External links
[
]
---