Raise a Floppa - The Loop
Play Sound
Sessen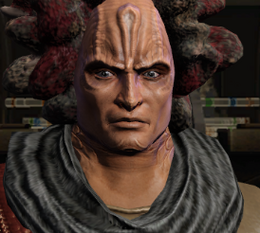 Profession(s):
Mission Contact
Sessen is a male hybrid Kazon/Cardassian, and First Maje of the Kazon-Nistrim.
History
[
]
In 2372, Sessen was conceived by his parents Seska and Jal Culluh. After birth, he was instrumental to the Kazon when they seized the Starfleet vessel U.S.S. Voyager. Voyager's crew was stranded on a primative planet for the exception of the ship's EMH and a criminal crewman. In the battle to retake the ship, Seska was killed and Culluh took the child with him when he fled.
By 2410, Sessen has grown up and taken over his father's role as First Maje of the Kazon-Nistrim. He harbors a deep vendetta against Voyager and her crew, blaming them for his mother's death.
Missions involved
[
]
"Alliances": The player first encounters Sessen in the

Bremark System

when the Delta Alliance attempts to persuade the Kazon to join a coalition of Delta Quadrant species to counter the threat of the Vaadwaur. Sessen leads an attack against the player and the U.S.S. Rhode Island, but not all of the Kazon sects present side with him and he is forced to retreat.
"Takedown": Sessen returns when the player orders the Kazon into battle during the fight for the Vaadwaur homeworld. The Kazon-Nistrim and -Relora betray the Alliance and side with the Vaadwaur in another attempt to get revenge against Starfleet and their allies.
External Links
[
]
---