Shelly
Timeline Change Imminent!

---

This article or section contains information that no longer applies to the current version of Star Trek Online. It is provided only for historical purposes.

Shelly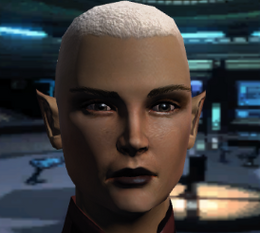 Military Rank:
Mirror Chief
Captain Shelly is a Vulcan Mirror Chief serving in the Terran Empire's Imperial Starfleet. In 2409 she commands the I.S.S. Liebig.
Shelly is possibly a hybrid, having typical Vulcan ears but a Human-sounding name.
Like all Mirror Chiefs, Shelly wears a Vice Admiral's coat despite she's only a Captain.