Fire Emblem Warriors: Three Hopes - The Loop
Play Sound
A Species (or Race) in Star Trek Online appear in Star Trek Online in various guises, namely;
Player species: The player is able to create a character in this species. Note further species can be approximated through via the "Alien species", but this is not registered as a particular species and does not benefit from species-specific traits.
Bridge Officer: The player can recruit bridge officers of that species, many of whom have access to specific traits.
Duty Officer: The player may recruit duty officers of that species. They are not seen as a ground NPC but are listed as members of the player's crew.
Non-Player Character: The species is seen in-game with ground NPC, but cannot be recruited by the player in any form.
Faction key
Note that access to certain bridge officers are gated; DSC and TOS captains cannot access 25th century species until they arrive in 2409. Likewise, Romulan and Dominion characters must choose their ally before accessing certain officers. Other bridge officers are limited in number, for example, Federation-allied captains can only access a single Naussican as part of the Diplomacy commendation.
Humanoid
[
]
Humanoids are species which are generally intelligent, bilaterally symmetrical, bipedal lifeform. While there are various sub-categories (i.e Vulcanoid, Arboreal, Reptilian and so on), for the purposes of this list it includes any corporeal life broadly using the standard humanoid wire-frame. As a result, providing the game's lore allows, most of these species are accessible as either playable captains or bridge officers. Many others can be created via the alien generator.
Species
Picture
Playable
BOff available
DOff available
Non-playable
External link
Acamarian
Acamarian DOffs
Acamarian NPCs
Aelasan
Non-Canon Species
Aenar
Aenar DOffs
Aenar NPCs
Alpha Jem'Hadar
Andorian
Andorian DOffs
Andorian NPCs
Atosee
Atosee NPCs
Non-canon species
Bajoran
Bajoran DOffs
Bajoran NPCs
Ba'ku
Ba'ku DOffs
Benthan
Benthan DOffs
Benthan NPCs
Benzite
Benzite DOffs
Benzite NPCs
Betazoid
Betazoid DOffs
Betazoid NPCs
Bolian
Bolian DOffs
Bolian NPCs
Borg
Borg NPCs
Borg (liberated)
Borg (liberated)
DOffs
Borg (liberated) NPCs
Breen
Breen DOffs
Breen NPCs
Brunali
Brunali NPCs
Bynar
Bynar DOffs
Caitian
Caitian DOffs
Caitian NPCs
Capellan
Capellan NPCs
Cardassian
Cardassian DOffs
Cardassian NPCs
Deferi
Deferi DOffs
Deferi NPCs
Non-canon species
Deltan
Deltan DOffs
Deltan NPCs
Denobulan
Denobulan NPCs
Dewan
Dinasian
Dosi
Dosi DOffs
El-Aurian
El-Aurian DOffs
El-Aurian NPCs
Ennis
Ennis NPCs
Eohki
Non-canon species
Fek'Ihri
Fek'Ihri NPCs
Ferasan
Ferasan DOffs
Ferasan NPCs
Ferengi
Ferengi DOffs
Ferengi NPCs
Gorn
Gorn DOffs
Gorn NPCs
Hazari
Hazari NPCs
Herald
Non-canon species
Hirogen
Hirogen DOffs
Hirogen NPCs
Human
Human DOffs
Human NPCs
Hunter
Hunter DOffs
Iccobar
Iconian
Iconian NPCs
Ithenite
Jem'Hadar
Jem'Hadar DOffs
Jem'Hadar NPCs
Karemma
Karemma DOffs
Karemma NPCs
Kazon
Kazon DOffs
Kazon NPCs
Kentari
Kentari NPCs
Non-canon species
Klingon (TNG)
Klingon DOffs
Klingon NPCs
Klingon (Discovery)
Klingon DOffs
Klingon NPCs
Kobali
Kobali DOffs
Kobali NPCs
Krenim
Krenims DOffs
Krenim NPCs
Ktarian
Lethean
Lethean DOffs
Lethean NPCs
Loktaran
Lukari
Lukari NPCs
Non-canon species
Lurian
Lurian NPCs
M-113
Malon
Malon NPCs
Na'kuhl
Na'kuhl DOffs
Na'kuhl NPCs
Nausicaan
Nausicaan DOffs
Nausicaan NPCs
Nol-Ennis
Ennis NPCs
Ocampa
Ocampa DOffs
Ocampa NPCs
Octanti
Octanti NPCs
Old One

Old One NPCs

Orion
Orion DOffs
Orion NPCs
Overlooker
Overlooker NPCs
Pakled
Pakled NPCs
Paradan
Paradan DOffs
Povini
Non-canon species
Preserver
Reman
Reman DOffs
Reman NPCs
Rigelian
Rigelian DOffs
Rigelian NPCs
Risian
Risian DOffs
Risian NPCs
Romulan
Romulan DOffs
Romulan NPCs
Saurian
Saurian DOffs
Saurian NPCs
Solanae
Son'a
Suliban
Suliban DOffs
Suliban NPCs
Talaxian
Talaxian DOffs
Talaxian NPCs
Taurean
Tellarite
Tellarite DOffs
Tellarite NPCs
Terran
Terran NPCs
Tosk
Tosk DOffs
Trill/Joined Trill
Trill DOffs
Trill NPCs
Turei
Turei NPCs
Tuterian
Vaadwaur
Vaadwaur NPCs
Violacean
Vorgon
Vorgon NPCs
Vorta
Vorta DOffs
Vorta NPCs
Voth
Voth DOffs
Voth NPCs
Vulcan
Vulcan DOffs
Vulcan NPCs
Wadi
Wadi DOffs
Xenexian
Xenexian NPCs
Xindi-Arboreal
Xindi-Arboreal DOffs
Xindi NPCs
Xindi-Primate
Xindi-Primate DOffs
Xindi NPCs
Xindi-Insectoid
Xindi-Insectoid DOffs
Xindi NPCs
Xindi-Reptilian
Xindi-Reptilian DOffs
Xindi NPCs
Yridian
Yridian DOffs
Yridian NPCs
Zambean
Artificial
[
]
Artificial life is a technological creation that has achieved consciousness and intelligence. While their exact status, both philosophically and legally, may be disputed, these beings are usually identified and treated as sentient by those who are familiar with them. These forms of life usually present as humanoid, often as they are created by humanoids in their own image, but they are not bound to that shape.
Non-Humanoid
[
]
Life comes in a large variety of forms, from sea creatures to shapeshifters. Some, such as the Tholians, require unique environmental conditions so survive without EV suits. These species are unlikely to ever be playable captains or bridge officers due to the unique animations needed for them (or the powers inherent in their species) but do appear as NPCs.
Cosmozoan
[
]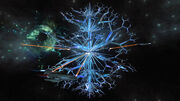 Cosmozoans are species who live in and traverse open space, rather than being bound to the atmosphere of a planet. These include the Crystalline Entity and Gekli. Due to their radically unique physiology and the failure thus far to establish meaningful communication, their intelligence is difficult to assess.
Non-coporeal
[
]
Non-coporeal beings are those who do not exist as ordinary matter. They often appear as a form of energy, such as the Devidians and Pahvans but for others, such as the Prophets, Pah-wraiths and the Q, any visible form is usually created exclusively for communication with carbon-based life. The latter group tend to possess a great deal of power over the physical world and space-time itself to the extent that they can be, or are, viewed by less powerful species as gods.
Wildlife
[
]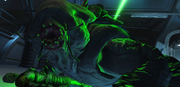 Beyond most humanoid species, and others with whom communication is relatively easy, there are a large number of other forms of life (termed as the in-game faction Wildlife). Most of these encountered by the player, such as Sehlats and Aehallh Worms, are not considered to be intelligent. Others, such as the Horta or Tardigrade, are more difficult to assess. The Bluegill, while appearing intelligent, is an artificial parasite and thus its intelligence is innate or derived from its creator. These species often appear as NPCs and as combat or non-combat pets. The jahSepp are fully sentient, although are fungi rather than animals or insects as most other sentient, non-humanoid beings are.
Mentioned only
[
]
Some species do not appear in game, but are referenced either in dialogue, via items or otherwise written down in game. These include the Dopterian, Etanian, Kobliad, Numiri, Quarren, Tamarian, Tarkalean, Tazani, and the Tkon.
Cryptic-created
[
]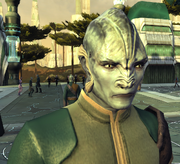 While most species in Star Trek Online are canon, there are a few that are original creations by Cryptic, most notably the Deferi and the Lukari who fulfil leading roles in story arcs and reoccur throughout the game.
In addition, species such as the Tzenkethi and Fek'Ihri are drawn from references and events in episodes but were never seen on screen. As a result, their appearance, and much of their background, is defined by Cryptic.
Early on in the game's history, many more species appeared in exploration clusters, minor patrols and as background characters. Most of these, such as the Aelasans, Dalankrit, Dia'fene, Hylasa, Mokia, and Xaraxian no longer appear in the game as their content has been removed.
Xenexians fall in between as, while not a canon species, they are not created by Cryptic but rather originate from novels.