---
| | |
| --- | --- |
| | This disambiguation page lists articles associated with the same title. If an internal link led you here, you may wish to change the link to point directly to the intended article. |
---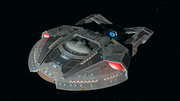 Steamrunner-class
 ~Blockade Runner Escort Variants
The Starfleet Steamrunner-class was a type of escort in service by the 2370s. The U.S.S. Appalachia, which participated in the Battle of Sector 001, is the most famously known ship of this class.
There are three playable starships based on the Steamrunner-class, listed in the template to the right.
NPCs
[
]
Stats
[
]
The following table compares all Steamrunner-class ships.
Ship

Rank

Tier

Hull

 
 
 

Uni

BOffs

IR

Cost

Blockade Runner Escort

1

1
11000
1.1
1
2
1
✓
2
1
1
2
✗
16
0.21
50
2,500
Blockade Runner Escort Retrofit

50

5
34500
1.15
1
4
3
✓
4
4
2
2
✗
✗
16
0.21
60
2,500
Appalachia Blockade Runner Escort

1

6
39675
1.15
1
4
3
✓
5
4
2
2
✗
✗
16
0.21
60
3,000
Variants
[
]
Steamrunner class variants
Class
Information


Steamrunner class

Aft

SKIN UNLOCK: Free

---

The Steamrunner-class starship's design serves as the basis for the 25th-century Zephyr-class Heavy Escort, and pioneered many of the Zephyr's signature design features. These include unusual catamaran nacelles that are mounted directly onto the saucer section and a trailing secondary hull, suspended between the nacelles. Thus the Steamrunner's nacelles effectively double as the pylons connecting the saucer and secondary hull.

Unlike the Zephyr class, though, the Steamrunner's deflector is not mounted on the saucer but on the trailing secondary hull, akin to the mission/weapons pod on an Akira-class ship. Like the NX-class escort, the secondary hull hangs below the saucer, with the connecting struts angling down. The saucer itself resembles an upside-down spade blade, sloping downward from the nacelles.


Steamrunner class Refit

Aft

SKIN UNLOCK: Free

---

This variant of the Steamrunner class has its impulse engines mounted on the pylons connecting the secondary hull to the nacelles, rather than on the primary hull. It also has altered livery.

This is the default skin when commissioning a Blockade Runner Escort.


Appalachia class



SKIN UNLOCK: Free

---
External links
[
]
Starship classes in Star Trek Online
By Name


Starfleet
Akira • Ambassador • Avenger • Cheyenne (Constellation) • Chimera • Constitution • Crossfield • Cardenas • Defiant • Emissary • Engle • Europa • Excelsior • Galaxy • Gemini • Hermes • Hoover • Intrepid • Luna • Magee • Miranda • Nebula • Nimitz • Nova • NX • Oberth • Olympic • Perseus • Pioneer • Prometheus • Saber • Sagittarius • Shepard • Sovereign • Trident • Vesta • Walker • Wells

Klingon
An'quat • Antaak • B'rel • B'Rotlh • Birok • Bortas • Bortasqu' • bortaS bir • Ch'Tang • Chargh • Chargh'poH • Chontay •

D4

• D4x •

D5

• D7 • D9 • DujHod • Durgath • Duvqu' • Gorkon • Haj • Hegh'ta • HoH'SuS • House Mo'Kai Raiders • K'maj • K't'inga • K'Tanco • Kahless • Kamarag • Ketha • Ki'tang • Kivra • Klavek • Klinzhai • Klothos • Koloth • Kor • Korath • Kortar • Koro't'inga • Krenn • Kurak • M'Char • M'Chla • Martok • Mat'Ha • Mogh • MoQ • Mur'Eq • Na'Qjej (Cleave) • Naj'sov • Negh'Tev • Negh'Var • Ning'tao • Norgh • Nov • Pach • Peghqu' • Puyjaq • Rozhenko • Qa'Tel • Qaw'Dun • QeHpu' • Qib • Qin •

Qoj

• Qorgh • Qu'Daj •

Qugh

• Qui'tu • Qul'poH • QulDun • Sarcophagus • Sech •

Slithus

F •

Somraw

•

SuQob

•

Ta'Sub

• To'Duj • Tor'Kaht • Toron •

Ty'Gokor

• Vo'Quv • VoD'leh • voDleh • Vor'cha • Vor'Kang • Vor'ral

---

F = Ferasan design

Gorn
Ahgamas • Draguas • Ihgomas • Khaimas • Phalanx • Varanus
NPC-only: Balaur • Ddraig • Kulshedra • Makar • Naga • Tuatara • Vishap • Zilant
Lethean
Nemosin • Oniros • Xechas

Nausicaan
Kolasi • Guramba • Scourge • Vandal
NPC-only: • Ravager • Stinger • Syphon • Talon • unnamed drone class • unnamed escort class


Orion
Blackguard • Corsair • Dacoit • Marauder
NPC-only: Brigand • Slavemaster • Warbarge • unnamed corvette class • unnamed interceptor class • unnamed ring ship

Romulan
Aelahl • Ar'kala • Ar'kif • Aves • Baratan • Caprimul • D'deridex • D'ridthau • D'Khellra • Daeinos • Deihu • Deleth • Dhael • Dhelan • Dinaes • Dynnasia D • Faeht • Falchion • Flambard • Galas • Ha'apax • Ha'feh • Ha'nom • Haakona • Harpia • Hathos • Ikkabar D • Jaeih • Jarok • Jhu'ael • Kara • Kestrel • Khaiell • Kholhr • Khopesh • Laeosa • Malem • Mogai • Morrigu • Nijil • Okhala • R'Mor • Scimitar • Scorpion • Shamshir • Silik • Sui'Mor • Surhuelh • T'laru • T'liss • T'varo • Taenen • Tal'aura • Talon • Talvath • Tebok • Thrai • Tiercel • Tulwar • Tyton • Valdore • Valkis • Vandros D • Varel • Vastam

---

D = Dewan design
Other species
• Xindi: Olaen
• Fek'Ihri: Kar'Fi • S'torr • NPC-only: Drek'Hi • Fer'Jai • K'Norr • S'Kul
• Hur'q: Nekcrid Assembly • Vedcrid Hive • Vridyat Ravager • NPC-only: Chidyat Swarmer
• Hirogen: Apex
• Vaadwaur: Astika]
By Type

• Cruiser (Constitution)
• Heavy Cruiser (Cheyenne • Constellation • Dakota • Stargazer)
• Advanced Heavy Cruiser (Excelsior • Resolute)
• Advanced Light Cruiser (Centaur, Miranda, Reliant, Saratoga, ShiKahr, Soyuz)
• Exploration Cruiser (Andromeda • Celestial • Galaxy • Envoy • Monarch • Venture)
• Heavy Battlecruiser (Europa • Nimitz)
• Heavy Strike Wing Escort (Akira • Alita • Armitage • Oslo • Thunderchild • Zephyr)
• Light Science Vessel (Oberth)
• Stike Wing Escort (Engle, Mirror Universe)
• Support Cruiser (Ambassador • Narendra • Yamaguchi)
• Temporal Cruiser (Gemini • Sagittarius)
• Temporal Escort (Perseus • Theseus)
• Utility Cruiser (Pioneer)
• Advanced Light Battlecruiser (QeHpu')
• Destroyers (Scourge, Vandal)
• Dreadnought Carrier (Sarcophagus)
• Dreadnought Cruiser (D9)
• Flight-Deck Cruisers (Corsair, Dacoit, Marauder)
• Flight-Deck Assault Cruiser (Blackguard)
• Gorn Multi-Mission Explorer (Ahgamas • Ihgomas • Khaimas)
• Gorn Support Vessels (Draguas, Phalanx, Varanus)
• Heavy Battlecruiser (Negh'Tev • Negh'Var • Qu'Daj • VoDleh)
• Intel Battlecruisers (Qib, Na'Qjej)
• Lethean Pilot Escort (Nemosin • Oniros • Xechas)
• Pilot Bird-of-Prey (D4x, Kelvin Timeline)
• Raptors (Mat'Ha)
• Pilot Raptor (Klavek • Kortar • Qui'tu)
• Recon Raptor (Ketha)
• Siege Destroyer (Guramba • Kolasi)
• Small Craft (DujHod, Kivra, Rozhenko, To'Duj, Toron)
• Temporal Destroyer (Chargh'poH • Krenn)
• Temporal Heavy Dreadnought Battlecruiser (Durgath)
• Temporal Science Vessel (Qul'poH • Korath)
Romulan
• Warbird (Dhelan • Dhael • Hathos)
• Advanced Light Warbird Battlecruiser (Deleth)
• Advanced Warbird (Ha'apax • Haakona • Kara)
• Assault Warbird (Ha'feh)
• Command Warbird (Baratan • Deihu • Vastam)
• Dewan Pilot Escort (Dynassia • Ikkabar • Vandros)
• Dreadnought Warbird (Scimitar • Falchion • Tulwar • Khopesh • Shamshir • Flambard)
• Dreadnought Warbird (Thrai)
• Heavy Warbird (Mogai • Valdore • Morrigu)
• Explorer Warbird (Galas • Surhuelh • Taenen)
• Flight-Deck Assault Cruiser (Silik)
• Guardian Warbird (Ha'nom)
• Intel Carrier Warbird (T'laru, Kelvin Timeline)
• Intel Warbird (Faeht)
• Light Warbird (T'liss • T'varo • Malem)
• Light Warbird Battlecruiser (Aelahl)
• Miracle Worker Warbird (Nijil • Tebok • Varel)
• Pilot Warbird (Jaeih • Khaiell • Okhala)
• Research Warbird (Laeosa)
• Science Destroyer Warbird (Aves • Caprimul • Harpia • Tyton)
• Small Craft (Scorpion, Tiercel, Kestrel, Jarok • Talon)
• Tactical (Carrier) Warbird (Ar'kif • Ar'kala • Jhu'ael)
• Temporal Destroyer (Talvath • Tal'aura)
• Temporal Heavy Dreadnought Warbird (Valkis)
• Temporal Science Vessel (R'Mor • Sui'Mor)
• Temporal Warbird (Kholhr)
• Warbird Destroyer (Daeinos • Dinaes)
• Warbird Battlecruiser (D'deridex • D'ridthau • D'Khellra)
Dominion
Jem'Hadar Fighter • Attack Ship • Dreadnought Carrier • Heavy Strike Wing Escort • Light Battlecruiser • Vanguard Starships