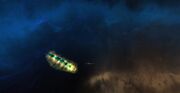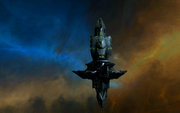 Subspace is the medium through which faster-than-light travel and communication is possible, and an integral part of the space-time continuum that co-exists alongside normal space, while being distinct from it. Subspace contains an infinite number of domains, such as the mycelial network and underspace, and has been compared to a honeycomb with an infinite number of cells. Subspace is home to the Solanae encountered by the U.S.S. Enterprise-D and the Elachi.
History
[
]
Population
[
]
The Solanae have resided in subspace for thousands of years as their molecular structure was modified to be comprised of solanogen, a material that can only exist in subspace, following a large scale accident which exposed them to massive amounts of tetryonic energy.
The Elachi are another race active in subspace that serves the Iconians. Prior to becoming Iconian servitors, they originated in the mycelial network, a domain of subspace. Since leaving, the Elachi operate bases in other domains of subspace including Station Alpha and Subspace Base 002. The Elachi use it as a staging ground for their invasion of the Romulan Republic.
Other beings originating in the mycelial network in subspace include the jahSepp and Tardigrades.
Missions involved
[
]
Missions formerly involved
[
]
Gallery
[
]
External links
[
]