T'Ket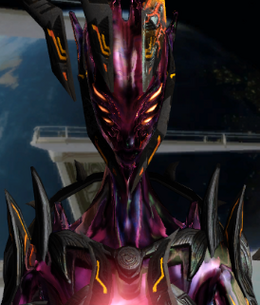 Oh, wait, that's already happened for you... right?

---

This article contains information that may spoil plot points from Measure of Morality. Proceed at your own risk.
T'Ket is an Iconian who is part of the invasion of the Milky Way during 2410. At the end of the war she rejected the peace that her people had accepted and went rogue, taking loyal forces with her so that she may one day take her vengeance.
Missions involved
[
]
Other involvement
[
]
In Tales of the War #9, set shortly after "House Pegh", T'Ket confers with a fellow Iconian, L'Miren. T'Ket is furious with L'Miren's interest in "mortals," and advocates destroying them all. L'Miren responds by saying there is no point in ruling a galaxy of ghosts. L'Miren suggests trying to guide the lesser races of the galaxy, and mentions that the Whole must be as One, including a being referred to as "the Other."
Notes
[
]
T'Ket is the second named Iconian in the game.
In Quark's Lucky Seven, it is revealed that T'Ket keeps a trophy room of the following items;
Gallery
[
]