Fire Emblem Warriors: Three Hopes - The Loop
Play Sound

T'nae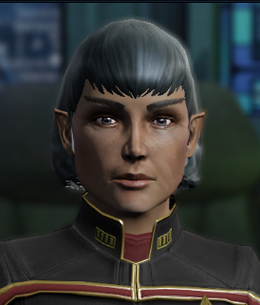 Profession(s):
Mission giver
Admiral T'nae is the Vulcan commanding officer of Starbase 39-Sierra and coordinates Starfleet activities along the Federation's border to the Romulan Star Empire.
Missions involved
[
]
Missions given
[
]
Other involvement
[
]
"Ripples": Aboard the U.S.S. Pastak, Lieutenant Ayobami Ibori and Commander Nereda summon Captain Benjamin Walker from his ready room. They have identified an example of a unique type of temporal anomaly - one which creates two separate "blips" in the fabric of time, at different points. However, they are unable to find the secondary anomaly. Concerned, they call Daniels for a consult. Daniels assures them that he will find the secondary anomaly with the assistance of a certain captain, whereupon they can integrate the two anomalies to stabilize the timeline. Daniels asks Walker to take the Pastak to make contact with the primary anomaly - Admiral T'nae.
Gallery
[
]
Notes
[
]
Prior to the station's overhaul in the Legacy of Romulus expansion, a Starfleet officer identical in appearance to T'nae could be seen in the east room on the main level of Drozana Station next to the bank terminals, this officer being identified as "Federation Head of Security".
In Temporal Ambassador, when asked what she could do to help free the Enterprise-C, the alternate T'nae informs the player that her first posting in Starfleet was to an Ambassador-class vessel. Whether the 'correct' timeline's T'nae also shared that assignment is currently unknown due to a lack of information regarding the exact ship and circumstances of the alternate T'nae's assignment.