TR-116A Rifle - Sniper Rifle
Rare Ground Weapon
Bind On Pickup
Unique - Max of one per character
Values do not reflect skills or other modifiers
TR-116A Rifle - Bolt
Kinetic Damage
36 Kinetic Damage (51 DPS) (20% Shield Penetration}
TR-116A Rifle - Sniper Shot
Exploit Attack
Damage and Knockback
– Does Not Require Line of Sight –
96 Kinetic Damage (9.9 DPS) (20% Shield Penetration}
50% chance: Knocks back +8 feet
Value: 0

The TR-116 rifle is a hand-held rifle-type weapon, a projectile weapon developed by Starfleet Security for use in dampening fields or radiogenic environments where conventional energy weapons would be useless. The rifle fires a chemically propelled tritanium bullet. A working prototype of the weapon was developed, but Starfleet opted not to produce the weapon after the advent of the regenerative phaser.
A player can equip the TR-116 Sniper Rifle into one of the two ground weapon slots. The TR-116 is a rare projectile weapon useful against dampening fields and in other challenging environments. It is also modified with a micro-transporter, which beams the fired projectiles to targets at close range past any obstruction, so that a player can fire without a direct line of sight.
The sound effect when the rifle is fired is unique - similar to the muffled sound made by a silenced gun - and because the rifle deals Kinetic damage not associated with an Energy type, it does not require remodulation, making it useful against Borg.
See Also: TR-116B Sniper Rifle (Crafted Version)
Acquisition
[
]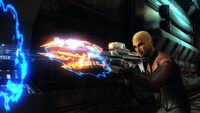 Players who preordered the game through Target or Game.co.uk, or purchased a specially marked version of the game at a Target store, can claim the TR-116a via the "Legacy Unlocks" tab of the Zen Store.
Modifiers
[
]
There are four factors that can affect personal weapons. These are Modifier suffixes, spent Player Skill Points, Personal Armor and weapon rarity.
Weapon Rarity

[

]
As of Season 5, the rarer the weapon, the more base damage it would do, regardless of suffixes. The TR-116A Rifle - Sniper Rifle is always Rare quality.
Personal Armor

[

]
Note
[
]
External links
[
]
---
Ground Weapons
Damage Type
Pistol
Rifle
Assault
Melee
&

Other

Expose
Exploit
Expose
Exploit
Expose
Standard Weapons and Special Weapons
Antiproton
Disruptor
Phaser
Plasma
Polaron
Tetryon
Non-Standard
Q's Winter
Wonderland
 
Elite Fleet Ground Weapons (standard + extra proc)
Damage Type
Pistol
Rifle
Assault
Melee
Physical damage
Expose
Exploit
Expose
Exploit
Expose
Phaser
 
Disruptor
Plasma
 
 
Tetryon
 
 
Polaron
 
 
Antiproton
 
 
Reputation and Lock Box (dual-proc and new proc)
Damage Type
Pistol
Rifle
Assault
Set Items
& Other
Expose
Exploit
Expose
Exploit
Expose
Antiproton
-based
Disruptor
-based
Phaser
-based
Plasma
-based
Polaron
-based
Tetryon
-based
 
 
Non-Standard