No Man's Sky Update - The Loop
Play Sound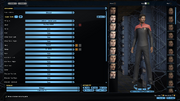 Tailors are NPCs where you can change the appearance complete and uniform of your character and their bridge officers without charge. They can be found in most major hubs throughout the game.
Away from tailors, you can switch between your available outfits by right-clicking your character's portrait and selecting Change Outfit at any time. If you (temporarily) join a fleet, you get at third outfit slot. You can buy two additional outfit slots at a time for every character on your account for 250 Zen ($2.50 or 122,000 dilithium assuming 488 dilithium per Zen).
There is currently a bug where bridge crew members will be duplicated on the login screen unless, at the tailor, you give each bridge crew officer's outfit a unique name within the Tailor interface. The name will revert to an auto-generated one the next time you click Save Outfit and then Purchase, so you will have to re-type the name each time you do that.
Character files
[
]
For PC users, when you save an outfit, it appears in a location such as C:\Program Files (x86)\Arc\Star Trek Online\Star Trek Online_en\Star Trek Online\Live\screenshots as a single .jpg file with all necessary information embedded. Therefore, there are websites where you can download costumes and upload your own costumes, such as STO Academy. The default file names are auto-generated, as in Costume_accountname#0000_charactername_Headshotstyle_Default_01_676746666. PC users may find it will help in the long run to rename important files as they create them and back them up to a separate location in case they uninstall the game. The file names must begin with "Costume_" in order to appear in the menu. You can view the file name for a saved outfit in-game by hovering your cursor over its icon.
When you alter your character's appearance or outfit, sometimes a new file may not be saved to your hard drive, or the .jpg may looks the same as the old file despite the data having been saved correctly. This bug only impacts the ability to browse through character data in personal file systems, not in-game. For changes on the Head tab, sometimes making a minor change on the Uniform tab, saving, deleting the new save file, then changing it back will force the appearance of the new file to change. If that doesn't work, wait and come back later. Coming back after a patch may help.
STO Academy has a character editor tool which allows you to re-use a design you've created on a character belonging to one faction -- Federation, KDF, Romulan Republic (unaligned), Romulan Republic (Federation), or Romulan Republic (KDF) -- on characters belonging to other factions. It also allows you to transfer a character of a specific human-like species, such as a Vulcan, Klingon, or Andorian, to an Alien character, and it does this perfectly. It also allows you to transfer appearance between human-like species. For example, if you've worked hard to make a human or Romulan that looks like you, you can transfer it to a species such as a Vulcan or Klingon. The tool only fails for species such as Ferengi, Tellarites, and Letheans. However, it will create the closest fascimile possible. There are also species which have species-specific clothes, such as Orions, which will not transfer to Aliens. When the character editor works, it allows you to change the species of a bridge officer later, as far as appearance, while keeping all the bridge officer's taught abilities. Conversely, it allows you to start with a bridge officer of a specific species when you might otherwise have started with an Alien, so you can have the benefits of restrictions which help ensure your design will be true to "canon".
List of tailors
[
]
This list may be incomplete. You can help by expanding it.
Notes
[
]