GTA: The Criminal Enterprises - The Loop
Play Sound

Tal'Mera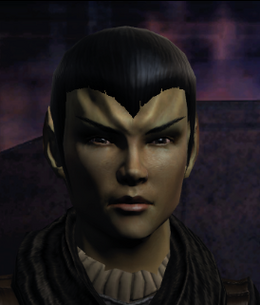 Military Rank:
Romulan Commander
Profession(s):
Mission giver
Intelligence operative
Commander Tal'Mera is a female Romulan officer and member of D'Tan's Romulan Republic. She works as an operative for Republic Intelligence on Drozana Station.
Missions involved
[
]
"Tradecraft": Players of the Romulan Republic have to meet Tal'Mera on Drozana Station in order to begin infiltrating the Tal Shiar.
"An Inside Job": After Tal'Mera becomes your mission handler, temporarily replacing Subcommander Nadel, she supplies you with a Tal Shiar uniform and the necessary credentials.
"The Vault": Tal'Mera accompanies the player on a covert mission to the Vault, an abandoned Romulan research station in the Haakona System.
Missions given
[
]
Missions mentioned
[
]
New Romulus Reputation missions

Romulan Republic players will wonder if Tal'Mera is behind the intelligence they are receiving regarding Tal Shiar, Hirogen, and Tholian activities on New Romulus, then discount the possibility as Tal'Mera would be able to come to them directly with the information.