Fire Emblem Warriors: Three Hopes - The Loop
Play Sound
For the mission, see "Taris".
Taris
Taris was a Romulan and most notable for her tenure as Praetor of the Romulan Star Empire from 2391-2403. Since her first encounter with their technology in 2365, she was possessed by gaining the power of the Iconians which led to her indirect involvement in the Hobus supernova event that had caused the destruction of Romulus and Remus in 2387.
History
[
]
Military career
[
]
The Hobus supernova and rise to popularity
[
]
Reigning the empire
[
]
Decline of popularity
[
]
Rebellion and removal from power
[
]
The conflict further fractures the empire and Taris faces a growing rebellion when Kevratas and

Abraxas Prime

support Velal. According to Starfleet Intelligence reports, Taris is locked in her rooms for a few days when the

Romulan Second Fleet

approaches Rator III on Stardate 80957.96, however, when Velal's fleet enters orbit, she is already gone. The reign of Taris is over when the Senate proclaims Sela Praetor (2403).
In 2407, Praetor Sela revives Taris' idea about a Romulan monarchy. Later on, she becomes Empress of the Star Empire.
Missions involved
[
]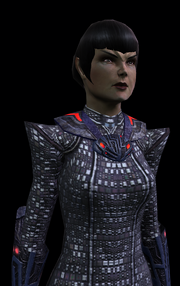 Missions formerly involved
[
]
"Taris (original)": After Starfleet found out about Taris' role in the destruction of the Romulus System, they dispatch a ship to locate her. Taris and her Reman allies, including Commanders Arranhu and S'hanclado, are subsequently found and captured on Iconia. Here, she is also operating an Iconian gateway for her "masters" and still regards herself rightful Praetor of the Romulan Star Empire. After her detention, the Federation planned to cooperate with Empress Sela to put the war criminal on trial.
Health
[
]
Level
Standard Difficulty
Advanced Difficulty
Elite Difficulty
Shields
Health
Shields
Health
Shields
Health
32
916
2932
Abilities
[
]
Notes
[
]
External links
[
]
---