Tem Inasi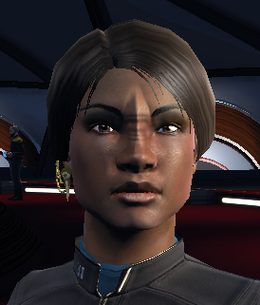 Military Rank:
Lieutenant Commander
Profession(s):
Science Officer
Lieutenant Commander Tem Inasi is the Bajoran Chief Science Officer aboard the U.S.S. Enterprise-F.
Details
[
]
Unlike her religious brother, Inasi does not worship the Prophets but approaches them rationally as alien beings "worthy of study and contact". However, she proudly wears her earring as a symbol for Bajor and its culture.
History
[
]
Inasi was born in an internment camp in Perikian Peninsula in the last days of the Cardassian Occupation of Bajor.
She grew up in the Bajoran Capital where her father was a member of the Provisional Government in the Ministry of Agriculture.
After graduation, she left Bajor and earned degrees in physics and exozoology at the Vulcan Science Academy. She would continue her career in Starfleet.
Tem Inasi already served with Captain Shon on the U.S.S. Belfast and followed him to join the U.S.S. Enterprise-F crew.
Missions involved
[
]
"Boldly They Rode": Tem Inasi can be seen at a console in the background when Shon hails the player upon the Enterprise-F 's arrival.
"First Contact Day": The player visits the bridge of the Enterprise at Utopia Planitia and meets with Tem Inasi and the rest of her crew.
Other involvement
[
]
"First Contact Day": Tem, Savel, and Kyona visit Bozeman, Montana, on First Contact Day. Tem reveals an interest in the history of Earth's space program. The three officers decide to participate in a competition to build and launch replicas of Cochrane's Phoenix, and Tem and Kyona conspire to give Savel a copy of Zephram Cochrane's favorite music for his next birthday, as Savel had expressed a distaste for it.
Health
[
]
Level
Standard Difficulty
Advanced Difficulty
Elite Difficulty
Shields
Health
Shields
Health
Shields
Health
1
77
154
-
-
-
-
Note
[
]
A non-interactable version of Tem occasionally spawns in Earth Spacedock's Club 47, where she stands in the Lounge overlooking Earth, sometimes with other members of the Enterprise crew.
External links
[
]