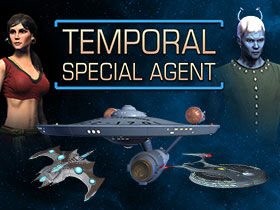 The Temporal Special Agent Pack is a discount bundle released with the Agents of Yesterday expansion. It contains twelve starships, six uniforms, one bridge officer candidate, three titles, and a number of other items. The Temporal Special Agent Pack is available in the Zen Store for 15,000

or it can be purchased through Arc.
In-Game Description
[
]
The life of a Temporal Agent will take you across time and space to strange frontiers and deadly battlegrounds. With the items found in the Temporal Special Agent Pack, you'll be well-prepared to tackle these threats. Take command… before time runs out!
Federation Ships
[
]
Cross-Faction Ships
[
]
Extras
[
]
Exclusive Titles
[
]
Title: Temporal Agent
Title: Chrononaut
Title: Time Traveler
External Links
[
]
---
Starter and Expansion Packs
Faction Packs
(PC)
Federation Basic Starter Pack • Elite Starter Pack • Fleet Admiral Faction Pack
Klingon Defense Force Elite Starter Pack • Dahar Master Faction Pack
Romulan Legacy Elite Starter Pack • Fleet Admiral Faction Pack
Faction Packs
(PS4 & Xbox One)
Federation Starter Pack • Federation Pack
Klingon Defense Force Starter Pack • Klingon Empire Pack
Romulan Legacy Starter Pack • Romulan Legacy Pack
Legacy of Romulus
PC-only: Legacy of Romulus Starter Pack • Legacy of Romulus Legacy Pack
Delta Rising
PC-only: Delta Operations Pack
Agents Of Yesterday
Temporal Agent Starter Pack • Temporal Special Agent Pack
Victory is Life
Gamma Vanguard Starter Pack • Gamma Vanguard Pack
Age of Discovery
Age of Discovery Starter Pack • Discovery Operations Pack
Discovery Expedition Pack (PS4-only) • Cobalt and Verdant Packs (PS4 and Xbox One-only)
Services
Elite Services Starter Pack
Elite Starter Pack (Retired)
See also: Legendary, Lobi, Mudd's Market, Other Zen-Store