Terran Empire Uniform Set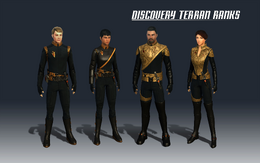 Faction:

Starfleet
Category:
Uniform/Off-Duty
The Terran Empire Uniform Set is a collection of Terran Empire uniforms from the 2250s (as featured in Star Trek: Discovery. They can be acquired from the Lobi Store for a price of 200

. They are available only to Starfleet characters and are a character-only unlock.
List of pieces
[
]
Upper Body
[
]
Upper
Hands
Chest Gear
Badge and Chest Gear Accessory 1
Chest Gear Accessory 2
Collar
Arm Attach Right
Shoulder Pad Left
Shoulder Pad Right
Lower Body
[
]
Pants Tight
Belt
Hips Layer
Feet