Fire Emblem Warriors: Three Hopes - The Loop
Play Sound
Timeline Change Imminent!

---

This article or section contains information that no longer applies to the current version of Star Trek Online. It is provided only for historical purposes.

Tess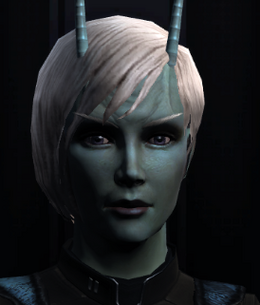 Military Rank:
Lieutenant
Profession(s):
Information giver
Intelligence operative
Lieutenant Tess is an Andorian Starfleet Intelligence officer. Her team specializes in covert operations behind enemy lines.
Missions involved
[
]
"Preemptive Strike": Tess is among the Starfleet officers the player rescues from a prison camp on Rator III. Her orders had been to covertly locate stockpiles of Romulan subspace weaponry and destroy them. She believes the Romulans are planning to attack Vulcan. Her team was captured when they were surrounded and overpowered by Remans during their mission. Tess asks the player to complete her mission by destroying the final weapon depot.