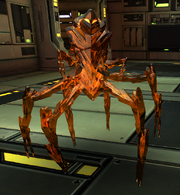 The Tholian Ensign is the most common rank in the hierarchy of the Tholian Assembly. It has the least seniority. Ensigns have no shields and they are armed with a Tholian Radiation Beam only.
Tholian Ensigns, without EV suit, have the basic orange carapace of their species. They are also smaller than higher ranking Tholians.
Armament
[
]
Abilities
[
]
Health
[
]
Level
Standard Difficulty
Advanced Difficulty
Elite Difficulty
Shields
Health
Shields
Health
Shields
Health
50
-1
534
n/a
-
n/a
-
Missions involved
[
]
Tholian Incursion
[
]
Tholian Ensigns appear in the Tholian Incursion ground map missions of the Neutral Zone: They are the most common troops encountered by Starfleet and the KDF when the Tholians occupy Nukara Prime to access the interphasic rifts there.
Gallery
[
]