Fire Emblem Warriors: Three Hopes - The Loop
Play Sound

Tholian Meshweaver Escort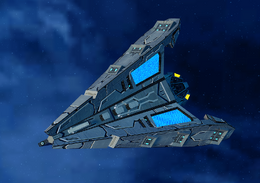 Requires an
Upgrade Token
Hull:

| | |
| --- | --- |
| Tier 5: | 27000 |
| Lvl 40 T5U: | 27000 |
| Lvl 45 T5U: | 29250 |
| Lvl 50 T5U: | 31050 |
| Lvl 55 T5U: | 33525 |
| Lvl 60 T5U: | 36000 |
| Lvl 65 T5U: | 40500 |
Matter-Antimatter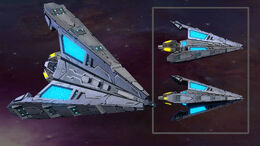 This article is about the
playable starship
. For the
NPC
vessel, see
Tholian Mesh Weaver
.
The Tholian Meshweaver-class Escort is a Tier 5 (Level 40) Escort which may be flown by characters of any faction.
Players can obtain this starship as a ultra rare drop from the [Infinity Lock Box]; it comes in an [Infinity Prize Pack - T5 Ship] choice package, which is bound to you until a ship is chosen. It can also drop from the older [Mirror Incursion Lock Box]. The boxed ship is not bound and so may be traded to other players or bought and sold on the Exchange for energy credits under the name [Special Requisition Pack - Tholian Meshweaver].
Overview
[
]
The Tholian Meshweaver Escort is among the most numerous ship types within the Tholian fleet. The Meshweaver features a secondary focus on science and has a higher than average shield strength.
It is the smallest playable starship that is not a small craft.
Starship Mastery
[
]
Starship Mastery
ESCORT
Level
Name
Description
I
Precise Weapon Systems
+5 Accuracy Rating.
II
Tactical Maneuevering
+5% Defense.
III
Enhanced Weapon Systems
+10% Kinetic Damage.
+10% All Energy Damage.
IV
Devastating Weaponry
+2.5% Critical Chance.
Abilities
[
]
Universal consoles
[
]
This vessel can utilize the [Console - Universal - Tholian Web Generator], [Console - Universal - Tholian Tetryon Grid] and [Console - Universal - Tholian Web Cannon] consoles from the other three Tholian starships. These three consoles form the Tholian Technologies Set.
If all three consoles are equipped, player gains access to:
Experimental Weapon
[
]
The Tholian Meshweaver-class Escort comes with an Experimental Weapon slot. This additional slot does not fit standard weapons. Unlike standard starship weapons, Experimental weapons are not affected by weapon firing modes, such as those granted by bridge officer abilities.
Standard configuration
[
]
Starships come with standard equipment and weapons of the lowest mark available at the ship's minimum rank. The items provided are appropriate to the type of vessel and its related playing style.
T5-X upgrade
By using an [Experimental Ship Upgrade Token], the Tholian Meshweaver-class Escort may be upgraded to T5-X, unlocking an extra ship device slot, universal console slot, and the ability to slot an extra starship trait.
Ship comparison
[
]
The following table compares T5 cross-faction Escorts.
Ship

Rank

Tier

Hull

 
 
 

Uni

BOffs

IR

Cost

Risian corvette

40

5
27000
0.9
0.9
4
3
✓
4
3
3
2
✗
21
0.25
90
Elachi S'golth Escort

40

5
28500
0.95
1.3
4
3
✓
4
2
4
2
✗
16
0.2
Hirogen Hunter Heavy Escort

40

5
36000
1.2
1
4
3
✓
4
4
2
2
✗
17
0.19
60
Xindi-Reptilian Contortrix Escort

40

5
33000
1.1
1.1
5
2
✓
5
3
2
2
✗
17
0.21
70
Tholian Meshweaver Escort

40

5
27000
0.9
1
4
3
✓
4
2
3
2
✗
✗
17
0.21
70
Jem'Hadar Attack Ship

40

5
34500
1.15
1
4
3
✓
5
4
1
2
✗
✗
20
0.22
70
Admiralty ship
[
]
Admiralty Ship
14
47
22
+8 SCI per EngShip or TacShip
Gallery
[
]
External links
[
]