Raise a Floppa - The Loop
Play Sound
This page is for the playable ship. See Tholian Orb Weaver (Mob) for the NPC ship.

Tholian Orb Weaver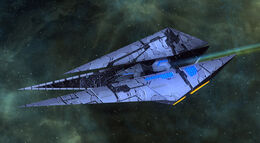 Hull:

| | |
| --- | --- |
| Tier 5: | 30000 |
| Lvl 40 T5U: | 30000 |
| Lvl 45 T5U: | 32500 |
| Lvl 50 T5U: | 34500 |
| Lvl 55 T5U: | 37250 |
| Lvl 60 T5U: | 40000 |
| Lvl 65 T5U: | 45000 |
Matter-Antimatter
Orb Weaver-class
 ~Science Vessel Variants
The Tholian Orb Weaver is a Tier 5 (Level 40) Science Vessel which may be flown by characters of any faction.
Players can obtain this starship as a ultra rare drop from the [Tholian Lock Box]. It was retired from the Infinity Lock Box when its Tier 6 counterpart was released. The boxed ship is not bound and so may be traded to other players or bought and sold on the Exchange for energy credits under the name [Special Requisition Pack - Tholian Orb Weaver Ship].
Overview
[
]
Recent conflicts with the Tholian Assembly have resulted in a handful of captured Tholian vessels. Tholian technology is very different from other Alpha Quadrant powers, and these vessels are prized as opportunities for study as well as new combat vessels. The Tholians' natural environment is hostile to most humanoids, and their ship interiors were designed to support that environment. Much effort has gone into simply modifying the interiors to let personnel board these vessels without environmental suits.
It comes with a [Thermionic Torpedo Launcher], which has a chance to drain weapon and engine power from a target.
Class variants
Class
Information

---

Acquiring the Tholian Iktomi for 900 unlocks all existing ship variants.

---

200px

Orb Weaver-class

SKIN UNLOCK: Free with this starship

---

The Orb Weaver-class were cruisers used by the Tholian Assembly by the year 2409. These starships were able to hold a crew of 1,200 and were equipped with a Tholian Web generator and Thermionic torpedos.
200px

Iktomi-class

SKIN UNLOCK: Tholian Iktomi, 900

---

Retrofitting of the Tholian Iktomi-class likewise started in a redesign of the lattice structures to compensate for required changes elsewhere on the starship. The resulting improvements were most visible in improved communication pathing and better structural integrity. Those optimizations in turn allowed for higher limiters on the impulse engines and freed up more power for the ship's shield generators.
Starship Mastery
[
]
Starship Mastery
SCIENCE VESSEL
Level
Name
Description
I
Enhanced Particle Generators
+15% Damage to Exotic Damage abilities.
II
Advanced Shield Systems
+10% Shield Hitpoints.
III
Enhanced Restorative Circuitry
Improves Hull healing abilities by 10%.
Improves Shield healing abilities by 10%.
IV
Reactive Shield Technology
5% Shield Regeneration every 6 seconds.
Reduces Damage to Shields by 5%.
Abilities
[
]
Universal consoles
[
]
The Tholian Orb Weaver comes equipped with the [Console - Universal - Tholian Web Generator].
This console is part of the Tholian Technologies Set, which also includes [Console - Universal - Tholian Tetryon Grid] and [Console - Universal - Tholian Web Cannon] obtainable from other Tholian vessels. For each console added after the first, an additional passive bonus is unlocked.
Equipping all three consoles unlocks the following active ability:
Sensor Analysis
[
]
Sensor Analysis is an active toggle ability. While maintaining a Sensor Lock on a target, the player gains a stacking effect that either improves the damage and power drain against an enemy, or improves any heal directed towards an ally. This effect stacks every 3 seconds, to a maximum of 6 stacks after 18 continuous seconds. To maintain the desired effect, the player must hold the sensor lock.
Subsystem Targeting
[
]
The Tholian Orb Weaver comes with built-in Subsystem Targeting abilities. These built-in abilities stay at Rank I and do not automatically rank up when acquiring higher tier Science starships. They are separate from Subsystem Targeting abilities gained through Tactical Space Bridge officer abilities.
Activating a subsystem targeting ability will upgrade all energy weapons to inflict a stacking power drain on the foe's targeted subsystem for the next 10 seconds. They will also have a small chance to knock the targeted subsystem offline for a short duration.
Standard configuration
[
]
These starships come with standard equipment and weapons of the lowest mark available at the ship's minimum rank. The items provided are appropriate to the type of vessel and its related playing style.
T5-X upgrade
By using an [Experimental Ship Upgrade Token], the Tholian Orb Weaver may be upgraded to T5-X, unlocking an extra ship device slot, universal console slot, and the ability to slot an extra starship trait.
Ship comparison
[
]
The following table compares T5 cross-faction Science Vessels.
Ship

Rank

Tier

Hull

 
 
 

Uni

BOffs

IR

Cost

Tholian Orb Weaver

40

5
30000
1
1.4
3
3
✗
3
3
4
3
✗
9
0.18
Voth Palisade Science Vessel

40

5
33000
1.1
1.45
3
3
✗
2
3
5
3
✗
11
0.15
40
Admiralty ship
[
]
Admiralty Ship
29
22
54
+8 ENG and TAC per SciShip
Gallery
[
]
External links
[
]