Tholian Orb Weaver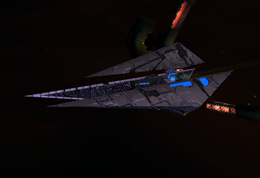 This article is about the NPC vessel. For the playable ship, see Tholian Orb Weaver.
Tholian Orb Weavers are a type of science vessel used by the Tholian Assembly. They are 408 meters long, less than half the size of the Recluse Battleship and completely dwarfed by the monstrous Tarantulas.
Armament
[
]
Abilities
[
]
Missions encountered
[
]
Gallery
[
]
Notes
[
]
Tholian ships are named for types of spiders - in this case, the Orb-weaver.
Orb Weavers have a 5% chance of creating an interphasic rift (through which Terran Empire ships will appear) upon destruction.