Tholian Recluse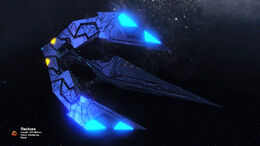 This article is about the NPC battleship. For the playable vessel, see Tholian Recluse Carrier.
The Tholian Recluse, also known as the Recluse Carrier or Recluse Battleship, is a battleship class used by the Tholian Assembly. They are 871 metres long, larger than most other Tholian ships but still dwarfed by the monstrous Tarantulas.
Armament
[
]
Abilities
[
]
Missions encountered
[
]
Gallery
[
]
Notes
[
]
Tholian ships are named for types of spiders - in this case, the Recluse.
Recluse Battleships have a 15% chance of creating an interphasic rift (through which Terran Empire ships will appear) upon destruction.