Fire Emblem Warriors: Three Hopes - The Loop
Play Sound

Tholian Widow Fighter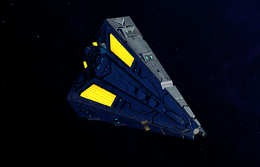 Hull:

| | |
| --- | --- |
| Level 1: | 5500 |
| Level 5: | 5775 |
| Level 10: | 7150 |
| Level 20: | 9900 |
| Level 30: | 12650 |
| Level 40: | 15400 |
| Level 50+: | 19800 |
Matter-Antimatter
This page is for the playable ship. See Tholian Widow for the NPC ship.
The Tholian Widow-class Fighter is a Tier 1 (Level 1) Small Craft which may be flown by characters of any faction.
Players can obtain this starship from the Lobi Crystal Consortium for 300

. The boxed ship is not bound and so may be traded to other players or bought and sold on the Exchange for energy credits under the name [Special Requisition Pack - Tholian Widow Fighter Ship].
Overview
[
]
Recent conflicts with the Tholian Assembly have resulted in a handful of captured Tholian vessels. Tholian technology is very different from other Alpha Quadrant powers, and these vessels are prized as opportunities for study as well as new combat vessels. The Tholians' natural environment is hostile to most humanoids, and their ship interiors were designed to support that environment. Much effort has gone into simply modifying the interiors to let personnel board these vessels without environmental suits.
The Tholian Widow Fighter comes with a [Tholian Thermionic Torpedo-S], which has a chance to drain weapon and engine power from a target. This is a shuttle variant of the Thermionic Torpedo Launcher.
Note that custom Tholian interiors are not available with this fighter. You will still have the standard Runabout interior.
Standard configuration
[
]
These starships come with standard equipment and weapons of the lowest mark available at the ship's minimum rank. The items provided are appropriate to the type of vessel and its related playing style.
Shuttle comparison
[
]
The following table compares cross-faction Small Crafts.
Ship

Rank

Tier

Hull

 
 
 

Uni

BOffs

IR

Cost

Ferengi Na'Far

1

1
6000
0.6
0.5
2
0
✗
1
1
1
1
✗
✗
23
0.25
300
Tholian Widow Fighter

1

1
5500
0.55
0.6
2
0
✓
2
0
1
1
✗
✗
31
0.32
300
Voth Heavy Fighter

1

1
7000
0.7
0.6
2
0
✗
1
2
0
1
✗
✗
25
0.2
95
300
Vaadwaur Pythus Fighter

1

1
6000
0.6
0.55
2
0
✓
2
1
0
1
✗
✗
25
0.2
300
Kestrel Runabout

1

1
6000
0.6
0.5
2
0
✗
1
1
1
1
✗
✗
24
0.2
100
34,250
Scorpion Fighter

1

1
5500
0.55
0.5
2
0
✓
2
1
0
1
✗
✗
28
0.2
100
500
Admiralty ship
[
]
Admiralty Ship
1
8
5
+10 ALL Stats per ANY Ship (Not Small Craft)
External links
[
]