Raise a Floppa - The Loop
Play Sound

Thy'kir Shran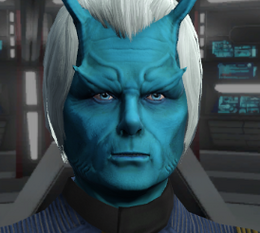 Profession(s):
Information giver
Captain Thy'kir Shran is an Andorian Starfleet officer in 2256. He commands the U.S.S. Sebrova.
History
[
]
Shran is the great-grandson of

Thy'lek Shran

.
Shran once served aboard the U.S.S. Endeavour with Anton Schaefer.
Shran once toured the U.S.S. Shran, and was treated with honor as a descendant of its namesake.
Missions involved
[
]
"Trial by Fire": The Sebrova responds to a distress signal sent by the Tutorial Starship. Shran then asks the player to accompany the Sebrova to check on another Starfleet vessel.
"The Shadow Knows": The Sebrova aids the player in guarding the disabled U.S.S. Ticonderoga from Klingon assaults.
"Downfall": The Sebrova arrives with the Ticonderoga to help the player in repelling an attack on Starbase 1. When the I.K.S. Lukara warps in, Shran orders the player to engage it while the Sebrova keeps defending the station from the increasingly fierce siege.
Other involvement
[
]
"The Will to Fight": Captain Shran of the records a log entry. He describes the apparent futility in waging war against their Klingons' cloaking technology, but reaffirms his determination to do what he can. He also reflects on his great-grandfather, Thy'lek Shran, who serves as both an inspiration to Thy'kir, as well as a shadow to overcome. The log entry is interrupted when he receives word of a distress call from a Starfleet Academy vessel, crewed by cadets on a training cruise. Shran orders his First Officer to redirect to the signal's source.