Raise a Floppa - The Loop
Play Sound

Tom Paris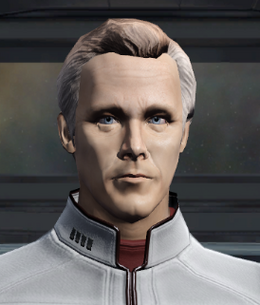 Profession(s):
Information giver
Commanding Officer
Captain Tom Paris (formally Thomas Eugene Paris) is a Human Starfleet officer. He is best known for his tenure as the helmsman of the U.S.S. Voyager during the ship's journey through the Delta Quadrant in the 24th Century. He is also the husband of B'Elanna Torres and father of Lt. Commander Miral Paris. In 2410, he commands the U.S.S. Mercury and leads Delta Flight.
History
[
]
The son of Admiral Owen Paris, Tom and his father had a poor relationship due to Owen pressuring him and making him feel inadequate.
In the 2360's, Tom attended Starfleet Academy and graduated with a major in astrophysics. His first posting was the U.S.S. Exeter. Tom was expelled from Starfleet after an accident on Caldik Prime led to the deaths of three of his fellow Exeter officers.
Following Tom's expulsion from Starfleet, he joined the Maquis, though was captured and imprisoned on his first mission with them.
In 2371 while serving at a Federation penal colony in New Zealand on Earth, Tom was recruited by Captain Kathryn Janeway who offered him a commuted sentence in exchange for his help in searching out the Maquis in the Badlands. Tom accepted and was given the rank of Lt. Junior Grade and brought aboard the newly-commissioned U.S.S. Voyager as an observer. During the mission however, Voyager was hurtled 70,000 light years into the Delta Quadrant by the Caretaker. With Voyager's helmsman killed in the incident and Paris being the best candidate for the job, he accepted the posting.
Over the following seven years, Tom would help design the Delta Flyer shuttlecraft, attempt to break the transwarp threshold, marry fellow Voyager crewmember B'Elanna Torres, and with her give birth to Miral Paris before returning home to the Alpha Quadrant in 2378.
At some point, Paris became an Admiral, holding Jorel Quinn's position at Earth Space Dock. However he "was never admiral material" and, through events not elaborated, was reduced to Captain. In 2410, he won Quinn's approval to establish Delta Flight, which aided the defence of the Milky Way against the Iconian invasion.
Missions involved
[
]
Other involvement
[
]
Notes
[
]
Tom Paris is voiced by Robert Duncan McNeill, the actor who played the character in

Star Trek: Voyager

.
Tom Paris is very fond of anything having to do with 20th Century Earth culture & technology, and often makes anachronistic pop culture references during the missions he appears in.
Some of the blogs released in conjunction with Season 10 and the first installment of Tales of the War mention that Paris was considered for promotion to Admiral and for a time was in command of Earth Spacedock prior to Fleet Admiral Jorel Quinn.
External Links
[
]
---