GTA: The Criminal Enterprises - The Loop
Play Sound

Tovan Khev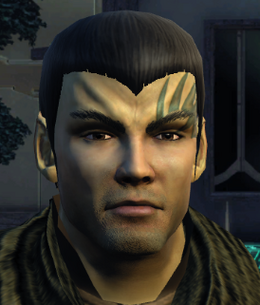 Profession(s):
Tactical Officer
Tovan Khev is a citizen of the Virinat colony and, later, the first bridge officer for players of the Romulan Republic. He has one sister called Rinna and used to be in a relationship with Charva.
History
[
]
Tovan was born on Romulus in 2378. Although he lost his father when the planet was destroyed by the Hobus supernova in 2387, he himself was fortunately off-world with his sister and mother during the disaster. In the chaotic years that followed, Tovan lost his mother to a Tal Shiar attack, further nurturing his hatred toward them.
Seeking a better future for himself and his entire people among the countless refugees, he met the young Romulan woman Charva. They quickly became a couple but broke up, despite sharing the same dreams and ideals, as Charva thought the Tal Shiar was the best chance for stability for the Romulan race. Tovan and his sister Rinna later settled in the mining colony in the Hfihar System, where they would meet D'Vex. Although Rinna decided to pursue a career as starship pilot, Tovan followed D'Vex's invitation and moved to the farming colony of Virinat. He since lost contact to his sister, however, and seeks means to search for her.
Missions involved
[
]
Traits
[
]
Items
[
]
Abilities
[
]
Concept and controversy
[
]
Tovan Khev was Cryptic's first iteration of implementing bridge officers featuring a personal background-story that is introduced during the tutorial and beyond. Khev therefore became the first ever bridge officer with voiceovers, which he retains for all of the Romulan Republic-specific story missions, i.e. up until the episode "Freedom".
As a consequence, however, he can neither be dismissed nor renamed, even after concluding all story missions, as this would still compromise any replays. Additionally, changes to Khev's appearance are also limited. As these limitations turned out to be very unpopular, Cryptic restricted voiceovers for K'Gan and Elisa Flores (Khev's Klingon and Starfleet counterparts) to the tutorial, thereby enabling players of those factions to dismiss them after its conclusion.
Notes
[
]
Some of Tovan Khev's dialogue was unvoiced prior to 2019. After which, the missing lines were voiced with an unknown voice actor which no longer matches the original performer. This can be heard most notably in the mission "Turning Point".
External link
[
]