Trivas System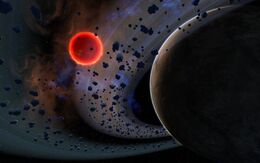 The Trivas System is a system located in the Bajor Sector of the Alpha Quadrant.
System Description
[
]
The
Cardassian Union
surrendered control of the Trivas system in 2372 as part of its agreements with the
Federation
after the
Cardassians
withdraw from
Bajor
. Among the assets that the Cardassians abandoned in the area was the orbital space station
Empok Nor
, a sister station to
DS9
.
Notes
[
]
External links
[
]