GTA: The Criminal Enterprises - The Loop
Play Sound

Tulwar Dreadnought Warbird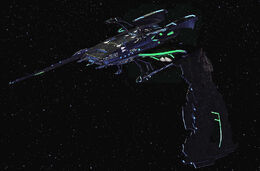 This page is for the NPC ship. For the playable starship, see Tulwar Dreadnought Warbird.
The Tulwar-class Dreadnought is a variant of the Scimitar Dreadnought used by the Romulan Republic in 2409. They are equipped with a wide range of plasma weaponry and can launch Elite Scorpion Fighters. Unlike the Scimitar, the Tulwar class does not appear to be equipped with thalaron weaponry.
Armament
[
]
Abilities
[
]
Hull strength
[
]
Level
Standard Difficulty
Advanced Difficulty
Elite Difficulty
21
120,358
24
141,269
Missions involved
[
]
Vessels of the class
[
]
Notes
[
]
The R.R.W. Lleiset was originally a Falchion-class vessel prior to the addition of the "Republic Day" mission. Since then she has been shown as a Tulwar-class vessel in all her appearances and is thus far the only NPC vessel of this class in the game.
Gallery
[
]