Fire Emblem Warriors: Three Hopes - The Loop
Play Sound

Tuvok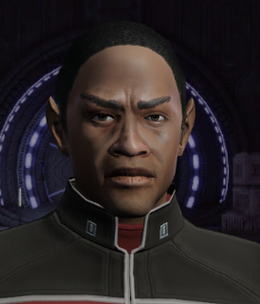 Military Rank:
Rear Admiral
Rear Admiral Tuvok is a Vulcan Starfleet officer. He is best known for his tenure as the U.S.S. Voyager's Tactical Officer while the ship was lost in the Delta Quadrant from 2371 to 2378.
History
[
]
During the Praxis crisis in 2293, Ensign Tuvok serves on the U.S.S. Excelsior under Captain Hikaru Sulu.
From 2371 to 2378 Lieutenant Commander Tuvok serving as Chief Tactical Officer, is lost in the Delta Quadrant with the U.S.S. Voyager under the command of Captain Kathryn Janeway. During these seven years, Tuvok encountered numerous species, including the Borg, the Voth, and the Undine.
By 2401, Tuvok has retired from Starfleet, and attempts to convince the Federation Council to reconsider its position on the Klingon-Gorn War in the light of new evidence supporting the presence of Undine infiltrators in the Alpha Quadrant.
By 2409, Tuvok has returned to Starfleet and since been promoted to Rear Admiral. In the same year he commands Voyager.
Missions involved
[
]
Mission mentioned
[
]
"Dust to Dust": According to Captain Harry Kim, Tuvok and the Voyager are on a classified mission in Vaadwaur-controlled space formerly occupied by the Krenim.
Images
[
]
Notes
[
]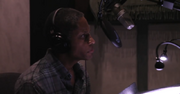 Tuvok was added to Star Trek Online with the mission "A Step Between Stars" as part of the game's 4 Year Anniversary Event on January 30, 2014. He is voiced by actor Tim Russ, the same actor who played him in

Star Trek: Voyager

.
With 14 missions featuring the character, but only 13 including unique voiceovers by Tim Russ, Tuvok (tied with Martok) is the second most featured canon character (after Daniels) voiced by his\her original actor in Star Trek Online.
In the mission "Fluid Dynamics" before Season 9.5, Tuvok was seen wearing the command variant of the uniform he wore when serving on Voyager during her time in the Delta Quadrant in the 2370's instead of the more modern Starfleet veteran uniform he wears from "A Step Between Stars" and onward. His appearance changed upon release of Season 9.5 when most, if not all Starfleet NPCs were converted to wearing Odyssey attire, though during the opening cutscene of "Surface Tension", Tuvok is shown wearing the Vice Admiral Coat instead of his Odyssey uniform, presumably a leftover. He can be seen wearing the Operations variant of the 2371-era uniform during the mind meld in the mission "Mindscape".
External links
[
]
---