Tzenkethi Battlestation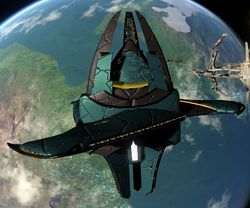 Tzenkethi Battlestations were bases constructed and utilized by the Tzenkethi Coalition in 2410.
Missions involved
[
]
"Tzenkethi Front": In 2410, Alliance forces are sent to take down Coalition Weapons Platforms and prevent them from sterilizing Eta Serpentis II. The platforms resemble smaller versions of a Tzenkethi Battlestation.
"Scylla and Charybdis": During the Defense of Bajor, a Tzenkethi Battlestation warp jumps into the system and is subdued by Alliance forces along with the player who subsequently boards it to apprehend Tzenkethi leader Aarn Tzen-Tarrak. After which, a Hur'q invasion force destroys the station.
"Turn the Tide": The player boards the Battlestation in orbit of Bajor, captures Admiral Tzen-Tarrak, and rigs the station's Protomatter weaponry to destroy the station.
---
Hubs, Starbases and Adventure zones
Federation
Social
Earth Spacedock • Earth Spacedock (23rd Century) • Deep Space K-7 • Starbase 39 • Starfleet Academy • Starfleet Academy (23rd Century)
Mission
Facility 4028 • Deep Space K-13 • Delta Volanis Science Station • Donatu Research Station • Donia Space Station • Sierra Outpost II • Starbase 1 • Starbase 24 • Starbase 80 • Starbase 82 • Starbase 114 • Starbase 157 • Starbase 234 • Starbase 236 • Starbase 375 • Starbase 621 • Korvat Medical Lab • Omar Space Station • Outpost Quebec Alpha • Penal Colony 47 • San Francisco Fleet Yards • Tazi Space Station • Treasure Trading Station • Utopia Planitia Shipyards • Vulcan Space Dock
Klingon
Social
First City (Qo'noS) • Ganalda Station • Klingon Academy
Mission
Lackey Listening Post • Bomari Listening Post
Romulan
Social
New Romulus Command • Romulan Flotilla
Mission
Gasko Station • Rh'Ihho Station • Vauthil Station • Virinat • The Vault
Other/
Neutral
Social
Captain's Table • Deep Space 9 • Delta Quadrant Command • Drozana Station • Dyson Sphere Joint Command • Hathon (Bajor) • Kobali City • Risa • New Romulus Staging Area • Paradise City
Adventure
Lohlunat Festival • New Romulus • Nimbus III • Q's Winter Wonderland • Solanae Dyson Sphere
Battle
Badlands Battlezone • Borg Invasion of Defera • Gamma Quadrant Battlezone • Kobali Prime • Tholian Incursion • Tzenkethi Battlezone • Voth Battlezone • Undine Battlezone
Mission
Deferi Outpost 3 • Dyson Sun Control • Kyana Research Station • Na'kuhl Temporal Facility • Outpost 001 • Station Alpha • Suliban Helix • Storage Facility Z98 • Terok Nor (mirror)