U.S.S. Akagi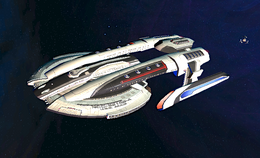 The U.S.S. Akagi is an Armitage-class escort carrier in service to Starfleet in 2410.
"Devil's Choice" & "Shadow Play": The Akagi is part of Battlegroup Phi forming at Virinat in order to subsequently proceed to New Romulus. Here she joins with a joint Starfleet/KDF fleet assisting the Romulan Republic in defending New Romulus against an Elachi invasion fleet.
"Midnight": The Akagi is docked in the shipyards orbiting Earth when the Iconians launch their assault on the Sol System; after the player destroys Herald vessels and stabilizes the drydock gantry surrounding the Akagi, she and the rest of her battle group join the fight.