U.S.S. Cardiff

U.S.S. Cardiff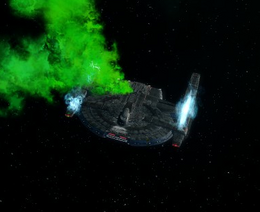 The U.S.S. Cardiff was a Engle-class starship in service until the mid-23rd century. It was disabled by Klingon forces while defending Starbase 1 in 2256, and scuttled by Starfleet.
"Downfall": The ship is scuttled by the player after her crew is evacuated.
The ship is shown with the registry 1003, which it shares with every other Engle-class NPC ship in Downfall.
---