Fire Emblem Warriors: Three Hopes - The Loop
Play Sound
This page is for the lead ship of the Defiant-class. For the 23rd-century Constitution-class starship, see U.S.S. Defiant (Constitution class).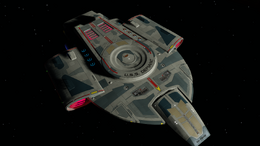 Defiant-class
 ~Tactical Escort Variants
The U.S.S. Defiant (formerly U.S.S. Sao Paulo) is a Defiant-class escort and the successor to the prototype that was originally launched in 2370 under the command of Commander Benjamin Sisko, then-commanding officer of Deep Space 9. The prototype fought in the Dominion War and was eventually destroyed at the Second Battle of Chin'toka, after which the U.S.S. Sao Paulo was renamed and redeployed at DS9 shortly after its construction in 2375 in honor of the Defiant.
In 2409, James Kurland is in command of DS9 and the Defiant.
History
[
]
Following the destruction of the original U.S.S. Defiant in 2375, the U.S.S. Sao Paulo (NCC-75633) is launched from Utopia Planitia Fleet Yards and renamed U.S.S. Defiant. It participates in the

Battle of Cardassia

, the final battle of the war.
2403: James Kurland is assigned to DS9, and takes command of the Defiant as well.
By 2409 the Defiant is still in service, and still assigned to DS9.
Crew
[
]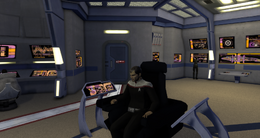 Missions involved
[
]
Other involvement
[
]
"Season 5 Dev Blog #30": In a personal log, Captain Kurland mourns the death of Karen Andrews and prepares to lead the Defiant on its mission to retake Deep Space 9, with the cooperation of the Female Changeling.
"Utopia Planitia Report 3": The Defiant is docked at Utopia Planitia to repair the extensive damage inflicted in "Midnight". The vessel is further damaged in an explosion during the repairs, as well as a high-risk attempt to rescue a lost crewman.
"Back Channels": Lukari Administrator Kuumaarke has been granted temporary command of the Defiant and sent on a diplomatic mission to the Na'kuhl System to offer to help the Na'kuhl re-ignite their star. The Na'kuhl refuse her offer, and she retreats from the system in accordance to their demands; however, she then has her crew re-enter the system under cloak to scan the star. Unfortunately, the scans determine that the fusion within the star has been permanently disrupted, and cannot be restored without Kal Dano or the Tox Uthat.
Gallery
[
]
Notes
[
]
Before "The 2800", the Defiant in the Minos Korva System had the registry NCC-75633-C.
As of Season Eleven: New Dawn, the Defiant can now use tractor beams to ensnare enemy vessels during combat. She was also given a visual update to more closely resemble her on-screen appearance.
Following the Victory is Life expansion, the Defiant can be seen parked above Deep Space 9 (though is not moored at the docking ring as she was between missions in

the series

).
External links
[
]
---