Fire Emblem Warriors: Three Hopes - The Loop
Play Sound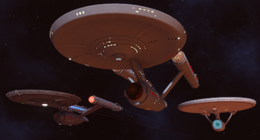 Constitution-class
 ~Cruiser Variants
For the Kelvin Timeline version, see U.S.S. Enterprise (Kelvin Timeline).
The U.S.S. Enterprise was a Constitution-class Cruiser launched in 2245.
One of the most famous ships of her time, the Enterprise served Starfleet for more than forty years. The ship took part in numerous first contacts and military engagements and defended Earth and the entire Federation on several occasions. Her most notable voyage was her five year exploration mission from 2265 to 2270.
History
[
]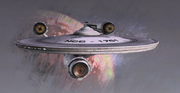 The Enterprise was commissioned in 2245, initally commanded by Captain Robert April. In 2254, the Enterprise - commanded by Captain Christopher Pike - traveled to Rigel, Vega, and Talos IV, among other worlds.
From 2265 to 2270 the ship was under the command of James T. Kirk. During this time the Enterprise set many records and made various discoveries. The ship's crew made the most first contacts any Federation starship had ever made - a record not broken until the U.S.S. Voyager became stranded in the Delta Quadrant more than 100 years later.
In 2273, the ship underwent an extensive refit. She saved Earth from the threat presented by V'Ger and stopped Khan Noonien Singh from seizing control of the Genesis Torpedo. In 2285 the Enterprise was destroyed over the planet Genesis, when Kirk activated the self-destruct to destroy a Klingon boarding party.
Numerous vessels followed in the footsteps of the Enterprise, all of them bearing the same name and registry.
Former Crew Members (Selection)
[
]
Missions involved
[
]
Missions formerly involved
[
]
"Past Imperfect": B'vat, aiming to change history, goes back in time to 2270 and tries to destroy the Enterprise.
Missions mentioned
[
]
Notes
[
]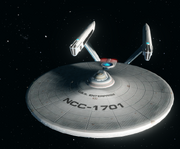 External Links
[
]
---