Fire Emblem Warriors: Three Hopes - The Loop
Play Sound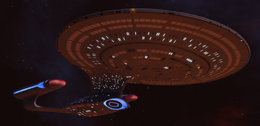 The U.S.S. Enterprise-D was Galaxy-class Cruiser which served as flagship of the Federation from 2364 to 2371.
History
[
]
The Enterprise launched in 2364 under the command of Captain Jean-Luc Picard. During its maiden voyage the ship made first contact with the omnipotent Q. In 2365 Q officially introduced the Federation to the Borg collective and the Enterprise was subsequently involved in the events which led to the Battle of Wolf 359 in 2366.
During its voyages, the Enterprise made numerous additional first contacts, among them with the Devidians, the Ferengi and the Solanae. The ship also contributed to scientific and archeological discoveries, most notably perhaps the uncovering of an ancient Gateway on Iconia.
The Enterprise was destroyed in 2371, when the ship engaged the Duras Sisters over Veridan III. Its successor, the Sovereign class U.S.S. Enterprise-E, was launched the following year.
Alternate Timelines
[
]
Former Crew (selection)
[
]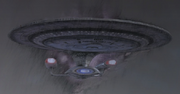 Missions involved
[
]
Missions mentioned
[
]
Notes
[
]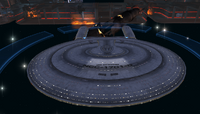 A plaque depicting the Enterprise-D can be seen inside starbases whose fleets have completed the special project "History and Movement".
Prior to its official appearance in "Measure of Morality (Part 2)", the Enterprise-D appeared as an Easter egg in the now-removed mission "State of Q", seen through one of the hull breaches on the U.S.S. Saratoga. This is somewhat anachronistic however, as the Enterprise-D did not make it to Wolf 359 until after the battle was over.
See also
[
]
External links
[
]
---