GTA: The Criminal Enterprises - The Loop
Play Sound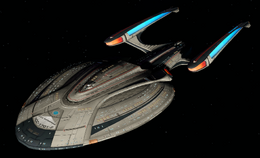 Odyssey-class
 ~Star Cruiser Variants
The U.S.S. Enterprise-F is a Yorktown-class cruiser under the command of Captain Va'Kel Shon. She is the successor to the U.S.S. Enterprise-E, is the flagship of the Federation, and was launched in 2409.
History
[
]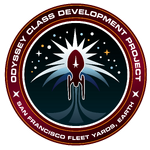 The Odyssey-class Development Project was based at the San Francisco Fleet Yards in Earth orbit.[1]
Captain Shon assumed command of the Odyssey-class Dreadnought Enterprise following the loss of his previous vessel, the U.S.S. Belfast. Commander Winters became his first officer and many crew members from the Belfast have also been reassigned to the Enterprise-F.
Sometime in 2410, following the Iconian War, the Enterprise-F was refitted to the Yorktown configuration of the Odyssey-class. In this configuration, the Enterprise boasts a crew of 2,100 (though she qualifies for mission-ready status with only 900), and shipwide improvements, including a more versatile deflector array, more specialized field projector equipment, more sensitive sensors, bigger engines, defensive upgrades, and improved automation. Her new dedication plaque, provided by Admiral Riker, reads, "Fate: Protects fools, children, and ships named Enterprise."
Crew
[
]
Missions involved
[
]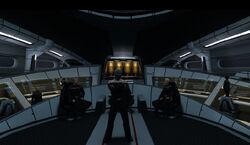 Missions formerly involved
[
]
Other involvement
[
]
"Utopia Planitia: One Big Ship": The Enterprise undergoes a large-scale refit following the Iconian War. Lieutenant Commander O'Brien notes that he has made a number of nonstandard modifications to the vessel's systems, and cautions Utopia Planitia's Lieutenant Whetu and Ensign Elyos to consult him when they discover anything unexpected.
"New Featured Episode: 'Beyond the Nexus'": The Enterprise has been moved to Earth Spacedock, where her refit is nearly complete.
"Jayce's Navy Interstellar: Through the Valley": As the Enterprise is preparing for her shakedown cruise following her refit, Captain Shon grants an interview and tour to a journalist. Before the voyage can begin, Shon is notified that a distress call has been received from Deep Space 9 - the Hur'q are attacking. Shon declares that they will depart in fifteen minutes.
Equipment
[
]
The player commands the Enterprise-F for part of "First Contact Day". Her loadout is as follows:
Weapons/Equipment
[
]
Abilities
[
]
Note that this does not include the player's own space skills.
Notes
[
]
Gallery
[
]
See also
[
]
References
[
]
External links
[
]