U.S.S. Khitomer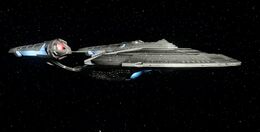 The U.S.S. Khitomer is a Noble-class cruiser in service to Starfleet in 2409.
↑ In the "Khitomer Crisis" segment of the original Federation tutorial, the player himself had to beam over to the disabled Khitomer and fight off the Borg boarding parties.
The ship is named after the planet Khitomer.