No Man's Sky Update - The Loop
Play Sound
Timeline Change Imminent!

---

This article contains information that no longer applies to the current version of Star Trek Online. It is provided only for historical purposes.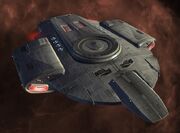 The "U.S.S. Poseidon" (NCC-8472-U) is an Undine dreadnought disguised as a Defiant-class escort. The Poseidon is under the command of Captain "Akira Sulu" and assigned to protect the Terradome in the NGC-4447 System. The ship is equipped with Undine Antiproton weaponry, and only a team of players can take her down.
Armament
[
]
Fore
[
]
Aft
[
]
Abilities
[
]
Hull
[
]
| Level | Standard Difficulty | Advanced Difficulty | Elite Difficulty |
| --- | --- | --- | --- |
| 46 | 1,002,331 | - | - |
Missions involved
[
]
"Terradome (Federation)": When the STF team investigates the Terradome, Captain "Sulu" demands they leave on the ground of Starfleet orders. When the team refuses to leave, the Poseidon attacks.
Gallery
[
]
Notes
[
]
The registry (NCC-8472-U) is an in-joke: Species 8472 is the Borg designation of the Undine.
The Poseidon rotates between the various Undine starships classes during the battle.
When Commander Akira Sulu was promoted to Captain, he served on the geunine Poseidon, patrolling the Romulan Neutral Zone, until he returned to his post at ESD.
See Also
[
]
External links
[
]