U.S.S. Reuben James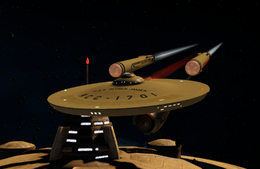 The U.S.S. Reuben James (NCC-1701) was a Constitution-class cruiser active in 2265. In that year she was commanded by Commodore Jacob Ross.
This ship is named for the Reuben James, an 18th century Boatswain's Mate of the United States Navy.
The Reuben James has the same registration number as the U.S.S. Enterprise. This is presumably a limitation in the game engine.
The Reuben James is not present during the final battle outside the station. Presumably she fled the system before B'vat's fleet arrived.