U.S.S. Sally Ride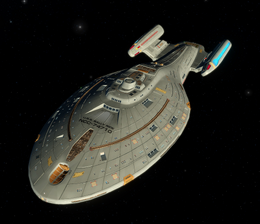 The U.S.S. Sally Ride is an Intrepid-class Science Vessel. If approached in Sector Space - in the Beta Quadrant and outside the Narendra System - Captain T'Lan will award the ship to the player as an Admiralty card. It can be claimed by any faction.
Captain T'Lan - Commanding Officer
Admiralty Ship
28
28
79
+20 SCI per Any Ship (Not Small Craft)
The Sally Ride is a reference to the Shield of Tomorrow Geek and Sundry show, added as a promotion to commemorate the final episode on July 13, 2018.
The ship is named after Sally Ride, the first female American astronaut.