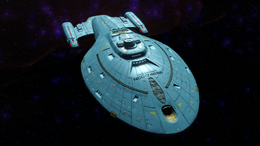 Intrepid-class
 ~Long Range Science Vessel Variants
The U.S.S. Voyager (NCC-74656) is an Intrepid-class Science Vessel renowned for her seven-year long solitary journey through the Delta Quadrant, as well her defense of Earth and Qo'noS during the Undine invasion of 2410. The current commanding officer is Rear Admiral Tuvok.
History
[
]
2371: Voyager launches under the command of Captain Kathryn Janeway. Her first mission, a combat mission to disrupt the Maquis, brings the ship to the Badlands, where she is transported 70,000 light years across the galaxy to the Delta Quadrant. In order to save the peaceful Ocampa, Janeway makes a fateful decision to destroy the array that brought the ship to the remote region, thus stranding her crew 75 years from home. Over the next seven years, Voyager manages to travel more than 30,000 light years on her own. During that time the ship's crew makes several impressive discoveries, accomplishments and first contacts. Many of these contacts were hostile, including engagements with the Voth, Hirogen, Undine and the Borg.
2378: Voyager engages one of the central Borg Transwarp Hubs and deals a crippling blow to the collective. The ship escapes via a transwarp conduit and reappears less than a light year away from Earth, bringing her seven-year long odyssey to an end.
2402: On a mission to survey the Zenas Expanse, Voyager makes first contact with the

Lorians

, an avian-like species.
Missions involved
[
]
Voyager will also very occasionally appear in the Undine Battlezone and aid players in recapturing areas.
Armament
[
]
Abilities
[
]
Crew
[
]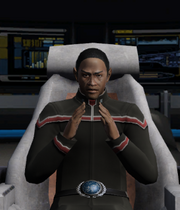 Currently serving
[
]
Rear Admiral Tuvok - Commanding Officer
Lieutenant Commander Kyla VanZyl - Executive Officer and member of Starfleet Intelligence.
Former crew (selection)
[
]
Interior
[
]
Further information: Intrepid Interiors
With the launch of Delta Rising, Voyager was given a full show-accurate interior for missions taking place onboard the ship.
Notes
[
]
External links
[
]
---