stardestroyer001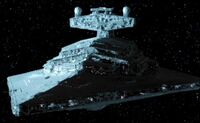 Profession:
Engineering Officer

stardestroyer001 is a former Star Trek Online player. He was a graduate and a coach for the PvP Boot Camp (Space) player-administered training program. He participated in PvP tournaments in 2012. In addition, he has been involved with Foundry mission projects, including Drkfrontiers' defunct Dark Frontiers Foundry project. He is a fan of Star Trek, Star Wars, and Battlestar Galactica.
Editor Profile
[
]
The username "stardestroyer001" stems from his personal history. He was a model builder in his spare time, and one of the creations he made was a 1.05-meter long model of an Imperial Star Destroyer; the apex of his model building hobby. The numeral "001" was an in-joke that designated his home as "Sector 001".
stardestroyer001 first appeared on the Wikispaces website as a frequent editor of several wikis, including his own personal database. He was working closely with the administrator of Debate0 for a period of around two years. Meanwhile, he began modding Star Wars Battlefront II, and was also a frequent forum user on gametoast.com, a popular Battlefront II modding community.
stardestroyer001 participated in PvP Boot Camp and earned the title of Graduate. He was later hired on as an assistant coach for the second round of PvPBC and later a full Coach for the third round. He is also an author in the Foundry, as well as a senior officer in Explorers Fury, a PvE/PvP fleet. In August 2013, he was the 16th ranked player in the game (according to Hilbert's Leaderboard system) - 5th ranked Engineer.
stardestroyer001 no longer plays Star Trek Online, and updates to this page are infrequent. stardestroyer001 can be found in the World of Warships community. His most recent work includes a detailed community survey.
Star Trek Online Characters
[
]
Foundry Projects
[
]
stardestroyer001's Foundry Projects
Code
Mission Name
Description
Notes
Status

STO-FM0

HB: The Best of Both Worlds
Historical re-enactment of the TNG episode of the same name.
Cancelled due to EULA concerns and 10-map restriction in Foundry.

Incomplete

STO-FM1

Unnamed
Story idea for a time-travel episode.
Converting into a FanFiction story.

Work In Progress

STO-FM2

The Second Light
Foundry Challenge #6 entry.

Complete

STO-FM3

Tragoedia Praecursator
An episode of Darkfrontiers Persistent Foundry Project (PFP). PFP was cancelled in 2013-14.
Some images remain here.

Incomplete
Website Link Unicomplex
[
]
stardestroyer001's Website Link Unicomplex

Last Updated: November 25, 2017 2:00 PM EST

Link Status: OPERATIONAL, 1 DEAD

Link(s)
Description
Notes
Status
Explorers Fury (PvE/PvP Fleet)
explorersfury.shivtr.com
Explorers Fury Fleet Coordination Website
Public and restricted access.

Live

explorersfury.guildportal.com
Explorers Fury's old website
GuildPortal closed down.

Archived

Foundry
5616 Errors
5616 Errors in one of my Foundry missions.
This issue was due to map resizing by Cryptic during LoR update.
STILL not fixed as of Jan 27, 2014.
Archive here.

Live,
Archived

Add Layering/Grouping to Foundry Editor UI
Proposal to introduce a Photoshop-like UI feature to Foundry Editor
Archive here.

Live,
Archived

Drkfrontiers' Persistent Foundry Project
A multi-author Foundry system with interconnected storylines.
Project was cancelled in 2013/14 and the site went down shortly after.
I have some leftover files from the project.
Archive here.

Live,
Archived

Drkfrontiers' Persistent Foundry Project Website
Operations website for PFP. Files were stored and shown here.
Website is currently down.

Archived

STO-FM2 The Second Light
My Foundry submission to Foundry Challenge #6. The victory went to my good friend @P_Sutherland.

Live

Ship Builds
Amicus' Starship Skill Points Effects
Comprehensive experimental results from skill point investment and returns.
Possibly outdated, wouldn't use as a primary source.

Live

dontdrunkimshoot's PvP Ship Build/Help Thread
DDIS's PvP Ship build and help thread.
A great source of pre-DR builds.
Archive here.

Live

DDIS's Fleet Nova
Charlott uses a variant of this, but combined with DDIS's Wells build.
Pre-Delta Rising.
Charlott used a different build found here.

Archived

DDIS's Wells
Charlott uses a variant of this, but combined with DDIS's Nova build.
Pre-Delta Rising.
Charlott used a different build found here.

Archived

Janok's T5-U Fleet Galaxy Build
Janok's PvE build for the U.S.S. Challenger II.
Written for Delta Rising.

Archived

Janok's T5-U Sci Oddy for PvP (Teamhealer)
Janok's teamhealer, the U.S.S. Challenger III, built solely for team healing.
Written for Delta Rising.

Archived

Janok's T5-U Recluse for PvP (Teamhealer)
Janok's teamhealer Recluse build.
Written for Delta Rising.

Archived

Rukia's T5-U Fleet D'Deridex for PvP (Teamhealer)
Rukia's flagship, the R.R.W V'Tal K'ihai.
Written for Delta Rising. (Scroll down ~75% to see it)
Archived version here (pre-DR).

Live,
Archived

Toevin@smokeybacon90's Fleet Excelsior build
Smokeybacon's Excelsior build. (Outdated)
Aux2Bat intro.

Live

kraven@LIVIN's Fleet Prometheus Build
Basis for ECH's Fleet Prometheus.

Archived

General PvP
PvP Boot Camp


on STO Forums

Official PvPBC subthread, before the forum changes.
Archived version here.

Live,
Archived

PvP Boot Camp Website
Official PvPBC website. PvPBC has ended but the website remains for now.
Alternate PvPBC websites:
Original Website, and New Website.

Live,
Archived (2)

All Other PvP
DDIS's Aux2Bat Findings
DDIS is a reliable source of information and his advice here forms the basis of effective Aux2Bat cuisers.
Archive here.

Live,
Archived

Hilbert@mancom's Leaderboard website
Hilbert's PvP Leaderboard system
How is this site still up?

Live

Jorf's Guide to Good Premade PvP Teams
No archive available.

Live

SRS Galaxy Wing
SRS Fleet - Galaxy Wing website. Registration required.
Thanks to Matt Johnson (@TFR_MACO_Specialist) for starting this initiative!

Live

STO Academy's Skill Planner
#1 choice for skill planning. Comprehensive and can save, share, and describe builds in the highest detail.

Live

The More You Know: Aux2Bat and Tech Doffs Intro for PvP
Aux2Bat starting point for the layman. Very well written for the layman. Also read DDIS's Aux2Bat findings afterwards, as well as a forum thread around B:O, DEM, and Aux2Bat for Aux2Bat cruisers.
Archive here.

Live,
Archived

General Guides
Azure Nebula Rescue Guide
My Azure Nebula Rescue guide to success
This was from 2013 when Azure Nebula Rescue came out.

Archived

Changing Field-of-View
Changing the camera FOV in ground and space (doesn't work in Sector space).

Live

A Guide to Epohh's
Written by Epohh guru and fellow PvPBC Coach Mimey.
No archive available.

Live

Hilbert's Guides
Hilbert@mancom, an experienced PvP player from the early days, has his own site of cookie-cutter starter builds.

Live

Keybinds for Dummies
Keybind programming.
Basic info here. Link still good.
No live version available.

Archived

Miscellaneous
Boarding Party bug
Questions on how Boarding Party (used to) work. Info obsolete.
No archive available.

Lost

"Bollshit"
Originally from Starfleet Dental website,
which had a screenshot of a player uttering "this is bollshit" which is catchy.
This is an archive of an archive.

Archived

DOFFCalls
Out-of-client Google Sheets for announcing current DOFF missions. By players for players.

Live

Galaxy-class Revamp Signature Movement
A silent movement started by me, which used forum signature pictures as protest platforms for a Galaxy (Exploration Cruiser) Revamp. To my knowledge, I was the first to use "revamp" to describe the overhaul and Cryptic used it ever since.
The movement concluded with the release of the T6 Galaxy which in its design, did take some advice from players in the historic "What is your beef with the Galaxy Cryptic?" forum thread. I will upload all the old sigs if requested.

Live

"Greats and Gripes"
My personal comments and salt about the STO Forums, read at your own risk.
Archived version here.

Live,
Archived

Logical Fallacies
Pretty good tool to make sure your forum posts "play fair" and legitimize your arguments.

Live

Out-of-Game Chat (GOLD players only)
Enabling XMPP.
Archive here.

Live,
Archived

XBOX 360 Game Controller Keybinds (useful for joysticks)
Joystick programming. Macros and general support
No live version available.

Archived
Miscellaneous Photos
[
]
Advocation forum signature banner (this movement contributed to the Galaxy Revamp!)
STOWiki Directory
[
]